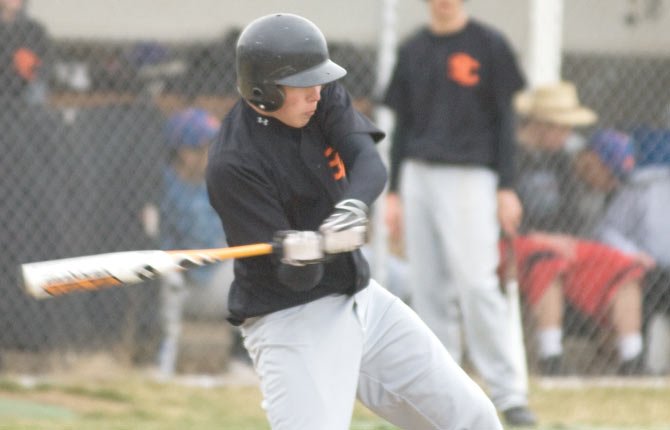 Coming off consecutive co-operative campaigns that saw them win seven games in the past two years, the Sherman Huskies bring in 13 players who have the heart, will and passion to get over this recent slump and into the postseason.
Now that the joint venture of combining players from Condon and Arlington is gone for the near future, Sherman coach Joe Justesen has a solid foundation of upper class leaders and youngsters who are ready to turn those playoff hopes into a reality.
Part of the solid core of returners is Austin Kaseberg, Nick Coleman, Cody Jauken and former all-league pitcher and senior, Ben Holliday.
Mixing that group with Kaiden Paulette, Alex Fields, Luke Lawrence and all-league catcher, Wyatt Stutzman is a reason to believe the Huskies could be a relevant force real soon.
But there are four freshmen who will fight for added playing time on the diamond, as Maverick Winslow, Max Martin, Kyle Fields and Ryan Asher could be the group that can carry the torch for several years to come.
"We have some great leadership on this team," Justesen said. "We have some kids who know how to play baseball. They know what I expect of them. With the seniors and the young kids that we have coming in, I think it is going to be a fun season."
If the Huskies are going to flip the winning switch, a bright light will be shown on the pitching staff and how they can limit offenses from extending innings.
Last season, the Husky hurlers allowed 196 runs, second worst in the eight-team Blue Mountain Conference.
A huge free-agent pickup is the 6-foot-1 inch Holliday, who missed last season with a knee injury.
The southpaw is already in solid form from an impressive effort Monday, where he tossed two innings of no-hit ball with five strikeouts and three walks to get the win in Sherman's 19-4 drubbing of The Dalles.
"Having Ben back is a huge plus for us," Justesen said. "He is one of the best arms in the league and I put him up against anyone."
Aside from the lefty ace, Justesen has options to throw out Coleman, Kaseberg, Kyle Fields, Martin and Winslow at any time in a ball game.
It is always a good thing to have depth at pitcher.
"We have some kids that know how to throw, but it is just we got to break them in slowly and get them strong enough to handle the league season," the coach said.
In having Stutzman at catcher, Justesen can breathe easier on game day knowing he has an elite defender, a calming influence and a good communicator on the field to test the pulse of the pitchers.
"Wyatt is one of those kids who will give you 150 percent on each and every play," Justesen said. "You want that behind the plate because when a pitcher is struggling, he can get them going in the right direction at any time. He is going to be just as important to our success as any player on this team."
One thing Monday's game displayed was the offensive possibilities of this Husky team.
In that matchup, they scored 19 runs, a marked improvement from last season where Sherman amassed 75 runs.
Justesen has speed at the top and bottom of the lineup and a potent middle of the order trio of Kaseberg, Jauken and Winslow in position to drive in runs.
"We are going to be relying a lot on our speed this year," the Sherman coach said. "We got enough speed and contact hitters that we will force the other team to make some plays. We will have to manufacture stuff against teams that have good pitching and know how to play the game."
Three of Sherman's four wins came in league action, but as he has witnessed for the past seven seasons, the BMC is a tough challenge.
Dufur, Pilot Rock, Weston-McEwen, Irrigon and Horizon figure to be rising teams who will fight it out for the final playoff spots.
"We have the 13 kids here at Sherman that are willing, wanting and eager to play," Justesen said. "I think if we can keep working hard and stay dedicated to the team, this can be the year that we can turn this thing around and get back to the place that we really want to be."
Sherman (1-0 overall) plays at Umatilla at noon on Friday, April 4.