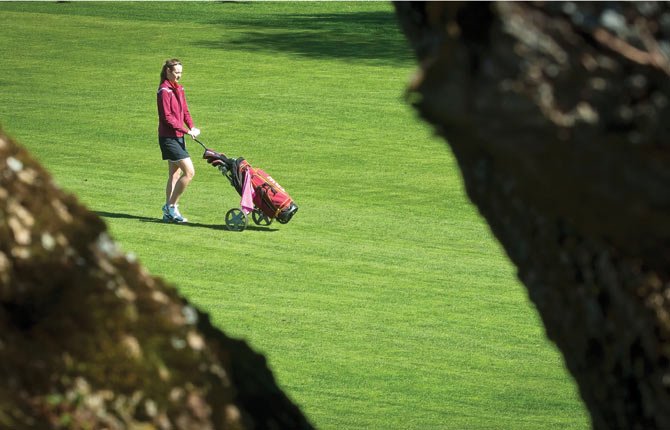 Goldendale High School's Bree Wanderscheid shot a two-over par 73 to claim individual medalist honors, and the Pendleton Buckaroos chalked up team recognition with an overall tally of 374 to highlight Tuesday's The Dalles Golf Invitational on a sunny, windless afternoon at The Dalles Country Club.
One of the great things about an early tournament is visualizing what a team can do against the competition. With the Columbia River Conference, there is no shortage of talent, so the competition will be fierce as each group tries to landthe two state slots.
"The potential is there. Pendleton will be the team to beat. They bring their entire team back. Hermiston is going to be pretty good too. I think we can be right there," said TD coach Dan Telles. "It is still early, though. There is still a lot of season to play."
Wanderscheid, who is scheduled to attend Washington State University on scholarship, appeared to have issues in her first event of the season, beating her next opponent by 10 strokes.
Pendleton freshman Hailey Greb ended up second on the individual side with an 83, and older sister and sophomore, Shelby Greb, jotted down an 85 on the scorecard.
TD freshman Iliana Telles had a good start to her first varsity action with 86 for fourth place, and Hermiston's Madison Welch was a distant fifth and a score of 95.
Paced by the marks of the Greb sisters, the Pendleton girls had a 374, to run away by 62 shots over Goldendale (436).
Hermiston (441), The Dalles (483), Scappoose (517), La Grande (539) and Reynolds (564) rounded out the team standings.
Aside from Iliana Telles' 86, the rest of the Eagle Indians endured a few tough moments on the greens.
Former state qualifier, Elizabeth Peters, carded a 125, and Jennifer Bonham followed up at 128.
Tribe newcomer Olivia Starks totaled 144, and Rebecca Stiles reeled off a 173.
"Some of the girls struggled a little, but it was our first tournament and I know they will cut some strokes down," said coach Telles. "I know they will put in the time to do that. All of these girls have a good work ethic and want to raise their level of play. Like I said before, it is still early."
When this team hits the practice courses once again, Telles will go back to basics to get his team hitting its stride for the rest of the season.
There are 20 calendar days between golf events (April 7 in Pendleton), so there is an ample amount of time to hone its skills on the golf course.
"They are competing against themselves," Telles said. "It is about them making good contact with the ball, learning their clubs, working on their pre-shot routines and being fundamentally sound. No matter what you do in life, you will always rely on the fundamentals. The same thing goes with golf. If you can do all of those things, then you give yourself a fighting chance."