The first day of spring is one thing, and the first spring day is another. The difference between them is sometimes as great as a month.
— Henry Van Dyke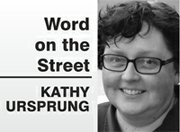 Ground for the sowing: Carola Stepper of Cascade Acupuncture wants everyone to have a chance to grow fresh produce in good soil. Toward that end, she is offering plots in the community garden behind her 1712 E. 12th St. offices for seasonal lease, $20 for the season, plus a $10 refundable deposit.
This includes Dirt Hugger (Http://dirthugger.com/) compost and watering on an automatic timer.
Call 541-298-2378 or visit the office Monday, Thursday and Friday, from 9 a.m. to 5:30 p.m. or Wednesday from 2 to 5:30 p.m.
Online: www.CascadeAcupuncture.org
In print: OSU/Wasco County Extension Service 4-H coordinator Lynette Ranney Black is also a published author with a book about designing sewing spaces, "Dream Sewing Spaces: Design and Organization for Spaces Large and Small" (Palmer and Pletch, 2010), which we wrote about in The Chronicle around the time of publication.
She is back in print with an article published in the May issue of Threads magazine, a high-style magazine for people who love to sew. "I enjoyed creating my own clothing, accessories and gifts," Black told Threads. "The skills and knowledge gained through 4-H led tme to study Family and Consumer Science in college."
Black secured a position with Palmer/Pletch Associates, which led to the publication of her book.
Her article in Threads is called "Illuminating Spaces," and talks about the importance and how-tos of good lighting.
End to regulation roadblock: The reduction in fees related to partition of lots in The Dalles has resulted in a handful of partition applications from the east end of the city.
Property owners who have waited years to partition their land into smaller lots because of the requirement to pay in advance for future street improvements are now submitting their applications in anticipation of future development.
Previous partition bills climbing up to $150,000 for street improvements caused a roadblock keeping many owners out of the partition process because it would have effectively cancelled out their land equity.
Legislative action in 2013 forced the city to do away with the advance payments, so land owners are taking advantage of the relief.
A toast to Passport Month: Columbia Gorge wineries are launching their annual April Passport Month with a Grand Tasting in Portland April 4 from 5 to 8 p.m. (trade tasting from 1 to 4 p.m.) and Ceruliean Skies Winery in the Pearl District.
Other scheduled activities for Passport Month include kick-off weekend, April 12 and 13 (the same weekend as Gorge Artists Open Studios); food and wine weekend, April 19 and 20; barrel and reserve tasting weekend, April 19 and 20.
Tickets for the 21-and-older tasting are available online at www.gorgewine.com.
Open forum at Government Affairs: Scheduling conflicts are prompting changes at the Thursday weekly The Dalles Area Chamber of Commerce meeting. This Thursday will be the monthly round table forum. Next week Greg Weast from the Port of The Dalles will be the guest speaker.
The group meets Thursdays from 7 to 8 a.m. at the Barbecue Restaurant, 1013 W. Sixth St.
Sao Paulo presence: Business Oregon Director Tim McCabe and representatives from four Oregon businesses are in Brazil this week to build relationships in the key emerging markets in South America.
"Whilie we hav emade much headway in Europe and Asia, and have long-standing relationships in both those markets, we must continue to broaden our reach into strong emerging markets such as Brazil," McCabe said.
The mission coordinates with the U.S. Commercial Service of the U.S. Department of Commerce. To promote Oregon as a place ot do business, build relationships wtih companies and industries to Brazil.
Site selection tool: Business Oregon has also launched a redesigned website, oregonprospector.com, to serve as an industrial site selection and analysis tool, and investment tool to help spur economic development and investment in communities across the state.
Oregonprospector.com allows site selectors and commercial developers to more easily locate available propertiesin the state. In addition, the site offers detailed demographic, economic and business data about the community surrounding each property such as wages, consumer spending, labor force and housing information.