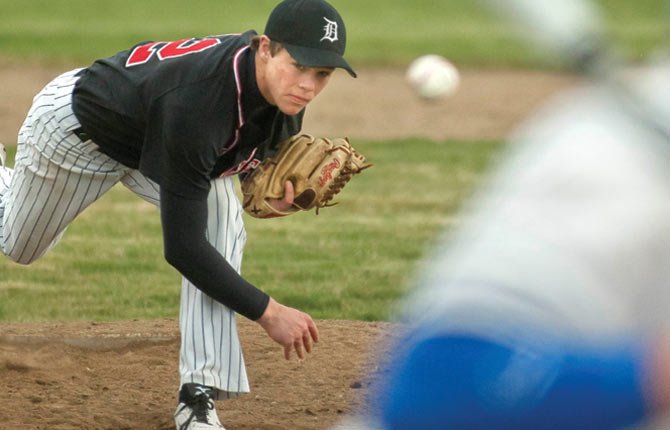 Battling hard in a 4-3 loss at home Wednesday against one of the elite 2A teams in Knappa gives Dufur reasons for optimism.
Junior catcher Jake Kortge feels his team belongs in the state talk, so he painted Wednesday's matchup with a silver lining
"We lost by one run, but it shows us that if a couple of different things happen and we get some bounces to go our way, then we are in that game, ahead by a few runs," Kortge said. "I think what we can take from this is that we are talented enough to compete with any team in the state, but we need to make some of our own breaks."
Dufur had a rallying chance in the first inning, with Cole Parke and Bryson Caldwell reaching on walks.
However, the next three batters made outs and they were stranded in scoring position.
Down 2-1 in the home half of the fourth, the Rangers were in business with runners at second and third and one out.
No. 8 hitter, Connor Uhalde, squibbed a pitch back to Knappa reliever Andy Miller.
The Logger right-hander froze Nathan Duling at third base and then fired to first to retire Uhalde for the second out and then Austin Palek made a throw home to cut down Duling to end the threat.
With the score 4-1, Kortge inched his mates closer to a 4-3 deficit in the bottom of the sixth frame with a two-run home run to left.
Later in the inning, Nick Little and Jon Keyser notched back-to-back, two-out singles, and Bailey Keever walked to load the bases for Parke.
On a 2-2 pitch, the senior struck out looking.
Still down one run in the seventh, Dufur had the 2-3-4 hitters dig in, but Knappa lefty Chase Rusinovich retired Caldwell and Josh Keyser on strikeouts, and then induced a game-ending grounder off the bat of Trever Tibbets to preserve the victory.
"These last few games, it has taken us awhile to get the bats going," said Josh Keyser. "Towards the end, we finally get going. We did that in our last game, but today, we had the chances, but came up short."
Dufur had four hits in the sixth inning for six in the game.
They also received three walks and had a batter plunked, but stranded seven runners and had 10 batters strike out, three looking.
"We got a lot of games next week and we have a couple of tweaks to make, but overall, I still like the makeup of this team," said skipper C.S. Little. "We will bounce back and get where we are going."
Dufur (1-1 overall) hosts Country Christian at noon Monday for a doubleheader.