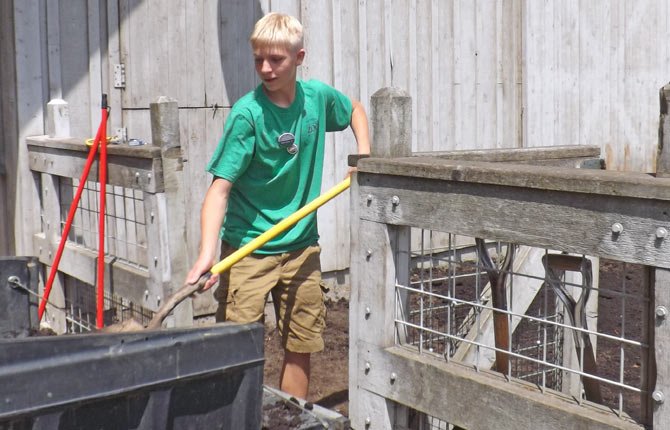 High school student and resident of The Dalles Dorian Lovett says his earliest visits to the zoo helped sow the seeds for both his love of animals and his future involvement in its ZooTeen program.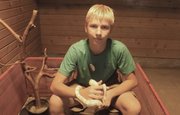 "I grew up on Steve Irwin and knew I wanted to pursue a field that focused on animals since I was two years old," he said.
The Oregon Zoo has been a place of wonder and a prime destination for hundreds of families over its 124-year run.
Spanning 64 acres of the metropolitan Portland area, the nonprofit organization contributes $4 to $5 million each year to help fund conservation, education and animal welfare efforts.
At 13, Lovett said, after speaking to one of the zoo's employees, he became interested in large animal nutrition as a potential career path.
"I really like to cook, so when I was introduced to the concept by one of the zoo's nutritionists, I was really interested," he said. "Pete, one of the rhinos, for example, has an iron deficiency, so they really have to watch how much they put into his food. By paying attention to each animal's needs, we increase its quality of life and overall longevity. Exercise, a healthy diet, entertainment—all of it helps their mentality, keeping them active and lively as well as taking care of their more long-term needs."
A freshman at Sonrise Academy, Lovett said he was among the youngest to apply for the ZooTeen volunteer program in 2013.

"They don't take a lot of freshmen," he said proudly. "I was one of about six brand new high schoolers out of the 500 or so that applied for the 100 open volunteer positions, of which only about 300 are admitted into the program."
Prospective ZooTeens are put through group orientations and interviews before entering training, Lovett said, which involves lessons in animal handling and proper zoo attire.
As a ZooTeen during the summer of 2013, Lovett said he was expected to attend lectures and classes, where he learned about things like environmental conservation processes in addition to taking part in numerous trainings.
"Our role is a very public one," he said. "It's our job to talk to people and educate them about the animals, so we're taught and tested to make sure we really have everything down before we go out there and start informing people."
One of the educational tools ZooTeens use is what Lovett called "Bio Facts."
"They're basically anything taken from an animal that's not actually alive, which we then use to explain the different things it can tell you about the animal. Take my personal favorite, the lion pelt: The bigger the pelt, the more dominant that lion's likely to be, the darker the mane, the more macho and aggressive. The whole point is to show you how cool and interesting something is, and then use that as a way to transition into the more environmental stuff, where we start talking about conservation and try to raise awareness about an animal's situation."
While half of the job is focused on such public interactions, the other half, Lovett said, is about cleaning and maintaining animal living spaces and learning how to make tools for their enrichment.
"We made these enrichment toys out of sheep's wool, which we put in water and then rolled into balls for the animals to play with. Our mongoose really likes them, but we also make much bigger ones for the primates to chew on."
ZooTeens are also in charge of the farm area, where goats and other small animals are kept.
"You get to learn a lot of new and interesting things on the job," Lovett said. "For example, you might think the most expensive animals to take care of would be some of the biggest ones, right? Wrong! Otters are actually much more expensive to feed than hippos, lions or polar bears. Why? Because they need fresh seafood— and they only get the best of the best, of course." He laughed.
ZooTeens also have the opportunity to see sides of the zoo regular members of the public never get a chance to see.
"One of the coolest things I ever got to do was feed Poppy and Bubbles, the hippos," Lovett said. "They just came over and opened their huge mouths like this," he said, using his arms to illustrate just how huge their jaws were. "Hippos don't have the ability to swallow, and since they have these flaps that cover their throats while they're underwater, they have to look up at you and tilt their heads back to eat. It was an incredibly cool thing to see."
While Lovett said he likes all the animals, if he had to pick a favorite, he said it would probably be the six year-old Amara, a 4-foot albino Ball Python.
"Most people just don't realize that snakes really have their own personalities," he said. "And Amara is just so different compared to the other snakes I've handled before. She doesn't recoil back from visitors, but is very outgoing and friendly."
When it comes to the future, Lovett said he hopes to pursue his dream of one day working at the Oregon Zoo himself.
"I'm looking at a couple schools with great wildlife programs right now, and I'm really looking forward to doing more with the ZooTeen program too."
Select second-year ZooTeens have the opportunity to job shadow zookeepers and learn what it really takes to do the job, and Lovett said that may provide yet another avenue for him to explore his interest in the field.
The next zoo event he looks forward to volunteering at is the annual Easter-time Rabbit Stomp, which involves a zoo-wide egg hunt and "pet-able bunnies."
The main ZooTeen program kicks off in June and ends just before Labor Day weekend. While applications for this summer's program are closed, Lovett highly encourages anyone interested to apply for next year's program.
For more information about ZooTeens or how to get involved, visit the Oregon Zoo's website at http://www.oregonzoo.org/get-involved/volunteer-zoo/zooteens.