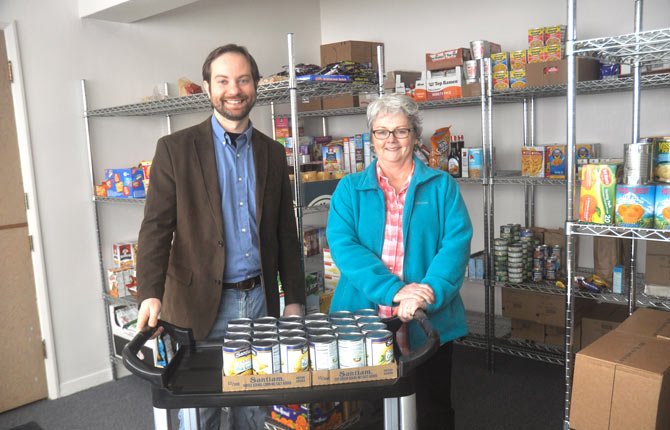 The folks at First United Methodist Church say they can see God's handiwork in how quickly and smoothly their new program to feed homeless students on weekends has expanded.
It started a year ago, when they began sending between six and nine high school students home each Friday with a backpack filled with enough food for a weekend.
Today, a year later, they've just expanded to the middle school, and now about 40 kids are sent home with enough food for them and any siblings they may have.
It actually gives Glynis Schreffler goose bumps when she thinks of how quickly it came together. "It's like it took roots and sent off shoots," she said. "It has a life of its own. God is actively working with this program."
It started with a suggestion of cooking lunch for the high school kids each Friday. That was nixed by the school, since it would have negative impacts on their school lunch program, Schreffler said.
But the school district's food service director, Troy Vennewitz, suggested the backpack program instead. The district's food service vendor, Sodexo, also gave a $1,000 grant to the ministry just before Christmas.
The high school had noticed some kids were wolfing down everything they could on Fridays, and then were lethargic on Mondays, Schreffler said. They discreetly developed a list of students who were no longer living at home, but were either couch surfing or living in cars.
"The point is to just get a kid through a weekend," Schreffler said.
"If you're a homeless kid and you're still trying to graduate. They're determined and we should do what we can to help them," Schreffler said.
"We've been commissioned to feed the hungry," she said. "Jesus was very clear about that. He was very clear we had to take care of the children."
"We want these kids to graduate and go do something wonderful and come back to contribute to the community," she said.
Since last year, the program has received three $1,000 grants — the one from Sodexo, one from the Oregon Food Bank, and one from local sorority Beta Sigma Phi, Chapter Preceptor Alpha Epsilon — and they just moved their food storage pantry to a larger location at United Methodist.
It's the former nursery, and long disused. Just the fact that they were able to convert the room was a sign of God's work, they said.
"Try to change something in a church," said Drew Frisbie, pastor at United Methodist. But the expected resistance just didn't materialize. "It's very clear the spirit is moving."
At a recent work party — which included students who needed community service hours — the food stores were moved from the old pantry to its more spacious new accommodations.
The church used grant money to buy shelving, a new refrigerator and bus carts for ease of moving food.
Now, with the pantry just off the alley behind the church, it's a snap to unload food donations. Before, a trip down stairs was required.
The church could use a wall air conditioner and a fan in the room now, to help keep food cool, and welcomed donations of those items.
Moving to other schools was the goal of the ministry, Frisbie said. Eventually, they hope to start programs at the elementary schools.
Since the ministry started last spring, the church tried to continue it into the summer, but had almost no participation, so they put it on hiatus until fall.
The program is purposely anonymous to protect the students' privacy. "They are a number to us," Schreffler said.
The high schoolers simply go across the street to the church after school Fridays and pick up their filled backpacks. The middle school backpacks are picked up by school counselors and distributed to students.
Backpacks usually include canned foods – green beans and corn because those are most likely to satisfy young palates – a loaf of bread and a jar of peanut butter. There are plenty of other choices, including tuna, refried beans, cereal, oatmeal, cheese, boxed milk, 100 percent fruit juice drinks, and a few snacks.
"We try to make sure the kids have adequate protein," Frisbie said.
The ministry gets its food through donations from several churches, a local sorority, and purchases at the Oregon Food Bank, where cash donations can stretch much further than at a grocery store.
"If we want something specific we have to order it on an order form and its trucked in from the main food bank and held for us at the local food bank," she said.
"We need donations of cheese sticks," Schreffler said. "you know what else we need is jam, we don't get enough jam."
In addition to donations from individuals – for instance, Schreffler's violin teacher has her donate her teaching fees to the ministry — she said "we get donations from Safeway." Sears gave a reduced delivery fee for the refrigerator and Roses Equipment Co. in Portland shipped shelves for free because they were making the trip anyway.
They also get donations from the Windy River Gleaners.
"What we do is each organization takes a month of volunteering to fill the backpacks," she said.
The middle school is responsible for getting the backpacks on Monday and returning them to the church. And if backpacks don't get returned, the church was given a supply of brown paper bags with sturdy handles.
They need to be hefty because, depending on how many siblings are being fed, a student can receive up to 32 pounds of food each Friday, she said. The heavier backpacks get delivered by school counselors to the homes where those students are staying.
One student has five siblings, for example, and another has four.
As she stood in the expanded pantry, filled with shelves lined with food, Schreffler said, "This is God's pantry, she's made it happen so she can feed her children. It's the feminine side of God that's going to take care of the children."