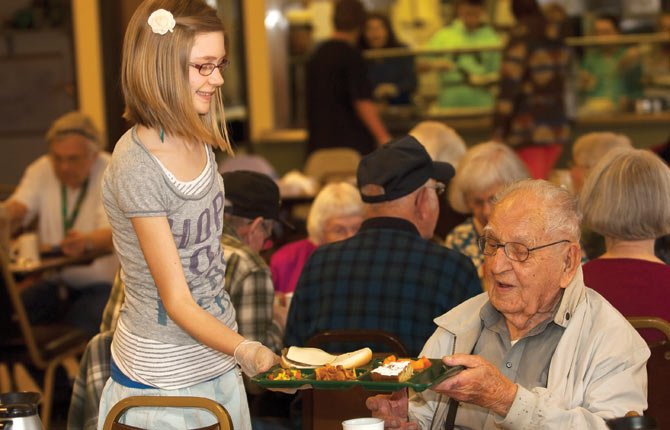 For more than 40 years, The Dalles Meals on Wheels has been at the forefront of the effort to combat hunger among older local residents and will march to raise awareness on the issue of senior hunger Thursday, March 27, as part of the national March for Meals Campaign.
Marchers will gather at the Mid-Columbia Senior Center, 1112 W. Ninth St., and begin marching at 9:30 a.m. Local elected officials have also been invited to join in the march.
"We're trying to get people excited about coming to march," said Susan Lowe of Meals on Wheels.
Anyone who plans to attend the March for Meals is asked to call Meals on Wheels at 541-298-8333. The call will help organizers get a better tally of participation so they can track support.
The march will travel around the Cascade Square area on Cherry Heights, West Sixth, Webber and West Eighth streets.
A total of about 8.8 million seniors in the United States— one in six — may not know when they will have their next meal or where it will come from. That's more than the entire population of New York City. That number is predicted to double by 2050, reports the Meals on Wheels Association.
The primary culprits responsible for this burgeoning, yet largely hidden, national crisis include the rapid increase in life expectancy, the escalating costs of food and transportation and the lingering impacts of a recession that was poorly timed for people nearing or in their retirement years.
The Dalles Meals on Wheels serves about 150 meals a day during the winter.
"During the spring and summer they get out more, so we serve about 175," said Denise Patton, director of Meals on Wheels. About 80 to 90 of those come to the Mid-Columbia Senior Center to eat, where meals are served daily.
The meal and the socialization that surrounds it may be a reason for some seniors to get up, get dressed and get out the door, Patton noted. Ages range from early 60s all the way up to 100. Sometimes they not only come for the meals, but for the activities available at the Mid-Columbia Senior Center.
"I think a lot of people, because of the word senior, tend to shy away," Patton said. "But it's for people of all ages."
Exercise classes, parlor games, music, computers, needlework, card games and lectures are among the activities. Wii bowling is one of the most popular activities and draws people young and old. But there are times when just getting out of the house is the biggest challenge.
"Once you lose your driver's license, you can really become isolated," Patton said.
That's where the daily meal deliveries come in. While some people come to the meal site on the Link, others choose to have their meals delivered to their homes by the volunteer drivers of Meals on Wheels. Even pets can benefit, thanks to a partnership between the meal program and Home at Last Humane Society, which provides food for animals.
What they get is not only meals, but a friendly face and a daily welfare check. Sometimes that welfare check becomes a life-saver when an elderly person has fallen, broken a hip or is otherwise incapacitated.
"It's surprising how many people in this day and age have no one checking on them," Patton said.
Meals on Wheels may often serve as an access point to connect seniors and their families to other services available within the community.
"We get a million questions all the time," Lowe said. "We try to find the answers," Patton added. "There's an incredible web of services out there."
Sometimes it can be a challenge to know which are appropriate because of the number of overlapping agencies that do similar things.
"A person comes in thinking they need one thing and as they get the conversation going they realize they need something totally different," Lowe said.
Sometimes access to those services is the difference between living at home and entering a care facility.
"The USDA [U.S. Department of Agriculture] says the cost is $1.30 per meal, so about $10 a week, versus $7,000 in a care facility," Lowe said. "That's huge. Many end up going on welfare."
Thursday Bingo is another activity that draws a crowd at the senior center — and the revenue it produces provides about 45 percent of the Meals on Wheels budget.
"Every single dime goes to Meals on Wheels," Lowe said. All the people who work there are volunteers. Saturday's Bingo, on the other hand, helps fund the senior center itself. Both help keep the organizations afloat.
"Bingo is huge for us," Patton said. "It's the one thing that helps keep the doors open."
"It's a lot of fun, and we give away a lot of money," Lowe said.