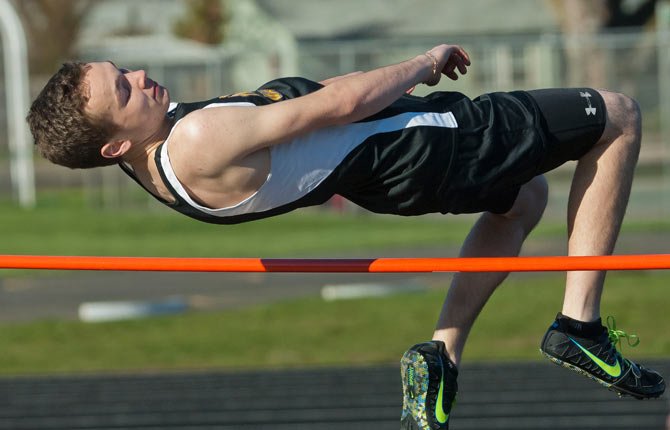 Many of the area's best male track athletes were in mid-season form Thursday at the Mullen-Leavitt Track Invitational, but The Dalles High School displayed true dominance with nine first-place ribbons in a sweep on the Wahtonka campus in The Dalles.
The boys notched nine top placers to rack up 214.5 points, as Lio Tunai, Mark Johnson, Zach Nerdin and Elijah Kohltfarber tallied multiple wins on the afternoon.
Tunai had a toss of 52-feet-7 inches in shotput, and the former state placer added a 136-00 for first in the discus.
Johnson ended up tied for first with a height of 11-0 in the pole vault, and he was part of the 4x400-meter relay team along with Kohltfarber, Nerdin and Mark Dunagan that claimed first place with a time of 3:56.80.
Nerdin was head and shoulders above the field in the triple jump with a distance of 39-02.5 and he kicked in a 16.45 in the 110-meter hurdles.
Luke McLean powered for first in the 3,000-meters in 10:49.29, Kohltfarber ran away for top prizes in the 1,500-meters in 4:42.25 and he never looked back in his try at 800-meters where he stopped the watch in 2:17.68.
Sherman had two firsts and a second in three events as part of 76.5 points for third place.
The 4x100-meter relay team of Blake Evans, Maverick Winslow, Brett Evans and Nick Coleman rallied for gold in a time of 47.35.
Isaiah Coles went for 18-8.5 for first place in the long jump, and Blake Evans claimed second place in the 200-meters with a marker set at 24.79.
The South Wasco County Redsides held serve with a first and three seconds to rack up 49 points, with Loreto Morelli taking first place in the 400-meters with a time of 54.79.
In the same event, Colton Nannini added a silver with a 57.22, Ellis Rager tallied second place in the javelin at 149-06, and Morelli place second in the triple jump where he landed in 38-7.
The Dufur boys had a few top-5 outcomes for 26 points and a tie for eighth place, but former state qualifier, Austin Olson had the best marks of the squad with a second-place in the shotput with a distance of 45-01.5.
The Dalles hits the track again with a meet at 3:30 p.m. Tuesday, April 1 at Kennison Field in Hermiston.
Dufur sets the stage in the Columbia River Invite in Boardman with an event slated for 11 a.m. on Saturday, April 5.