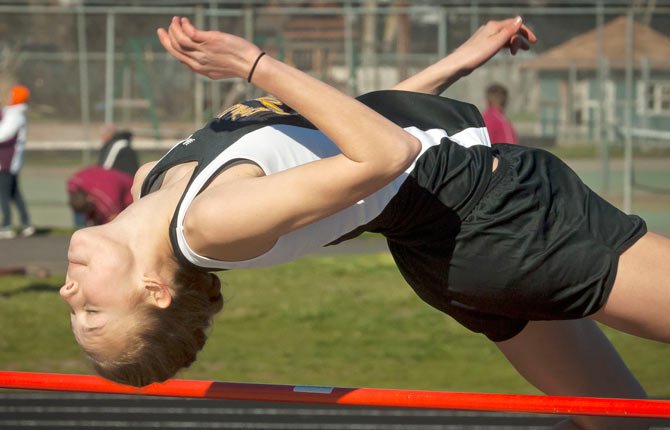 While The Dalles boys track team set the bar high on its side of the track, the girls followed suit with an impressive display in front of the home folks. They scored nine top-2 finishes for 153 points and an easy victory at the Mullen-Leavitt Invitational in The Dalles.
Staking claim to a brilliant start for the season was the junior tandem of Maddie Wood and Katie Conklin, with both racking up a pair of victories.
Wood lapped the field in the 3,000-meters for first place in 11 minutes and 52 seconds, and she wound up tied for first with Conklin in the high jump with a height of 4-feet-10 inches.
Conklin's other winning performance came in the 100-meter hurdles, where she crossed the tape in 18.19 seconds.
Katie Burns notched second place in the 400-meters in 1:05.68, and she reeled off another second in the 300-meter hurdles with her reading of 53.70. Caela Dunagan carded a second in her attempt at 800-meters in 2:46.70, Emily Morin captured silver in the 1,500 at 5:40.96, and Liz Tunai took care of business in the field events, with her discus toss traveling 88-01 for second place in the standings.
Finishing 61.5 points behind The Dalles was 1A South Wasco County, which had four top conquests.
Zoe Morelli pulled off the trifecta with three wins, and fellow senior Katherine Popchock did her part with a daily double.
Morelli kicked off her banner day with a 28.38 in the 200-meters for top recognition, and she reeled off a 1:03.73 for gold in her marquee event, the 400-meters.
Morelli, Popchock, Ally Muhleman and Tatum Hahn dominated the 4x400-meter competition in a time of 4:47.35, and Popchock worked her own magic in the triple jump, where she hit the sand in an impressive 31-06.25.
Rounding out the Lady Redside standouts was senior Joy Kelly, who garnered second place in her 3,000-meters in 13:33.00. The Sherman girls added a few more top places to their belts for 68 points and third place in the rankings, using a pair of firsts to help the cause.
Meagan McKinney walloped the 100-meter field with top honors in 13.77, and teammate and senior Andie Harrison had a top heave of 115-00 to grab first place in the javelin.
Brittney Orendorff placed second in her 100-meter hurdle race with a 19.59 to move her to the top of the 1A rankings.
The 4x100-meter relay team of Harrison, Orendorff, McKinney and Sabrina Green-Hite made a respectable move in their class with a 56.90 for second place, just a few ticks behind Trout Lake (56.33).
It looks like Dufur junior Taylor Darden is on her way to state glory and Thursday's output cemented that claim, as she posted first place tallies in the shotput and discus to help the Ranger girls to fifth place with 57 points.
Darden had a top effort in the shotput with a distance of 35-10, and she clicked home in a 105-04 for first in the discus.
Senior trackster, Teneille McDonald, did her damage in the high jump with third place in 4-06 to round out the best Dufur marks.
SWC is in action again at 1 p.m. on Friday, April 4 in Finn Rock. Sherman hosts its annual invite at 11 a.m. Saturday.