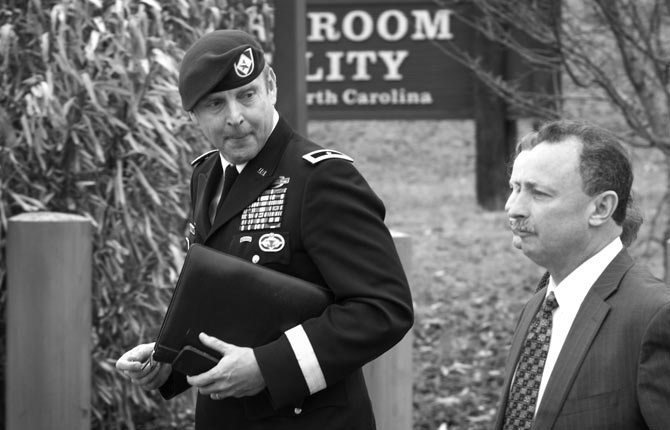 The settlement deal resulting from the trial of Brig. Gen. Jeffrey Sinclair on charges of sex assault is just the latest illustration of the need for judicial reform in a military where sex crimes are a rampant problem.
The apparently bungled case resulted in a reprimand and docked pay of $20,000 dollars — substantially less than two months' pay — but no jail time for the errant officer.
The married general admitted to affairs, but denied assaulting the key witness in the case and forcing her to provide oral sex in Afghanistan during 2011 while engaged in an affair.
The judge found an appearance of "unlawful command influence" in a Fort Bragg officials' decision to reject a plea bargain with the general in January.
Under the military code of justice, the decision was supposed to be decided solely on the evidence, not its broader political implications.
Had Sinclair been found guilty of the sexual assault charges he would have faced a maximum penalty of 20 years.
The judge could also have dismissed Sinclair from the Army, which would have wiped out his Veterans Administration health care and military retirement benefits.
Yet Sinclair apparently received the compassion his attorneys asked for when they cited losses to his family, particularly his wife, Rebecca Sinclair, who had made significant personal investment in the Army by holding leadership positions in organizations that helped soldiers' families.
Yet by rights the first level of compassion should go to the victims who were subordinates of the powerful general.
Families of civilian transgressors must suffer when a loved one is sentenced, why should generals' families receive special consideration?
It's a terrible burden when family members go to jail, but that doesn't mean a criminal should go free as a result.
The military has repeatedly proved itself ineffective at delivering justice where sex crimes are concerned.
No matter how distinguished a soldier's military record, it should not negate punishment for criminal wrongdoing.
"What is abundantly clear is the urgency of fixing the commander-centric structure of the current military justice system that deters victims from reporting attacks, helps result in an abysmally low prosecution rate, and, as the Sinclair case has reinforced, inspires little confidence in the integrity of the decision-making process," wrote the New York Times in the wake of the plea.
At present, commanding officers decide when a case goes to court martial. How can an officer, who has served daily beside an accused and has no legal training, be expected to make an informed and impartial decision about whether to charge a suspect?
It is long past time to put those decisions in the hands of trained and experienced military leaders. Like the nation itself, such authority needs to be divided from executive power.
And the "boys will be boys" culture needs to end in the military. Women (and men for that matter) who serve need the full protection of their public employer.