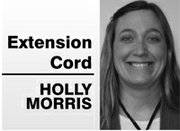 Earth Day is Tuesday, April 22 and brings with it a better awareness of how we treat our planet.
In support of Earth Day, the Wasco County 4-H after-school and in-class enrichment programs are focusing on being good stewards of the earth, the environment and our community.
These programs involve youth from Chenowith, Colonel Wright, Dry Hollow Elementary, and Dufur schools along with The Dalles Middle School and The Dalles High School. Youth in grades 1-12 will participate in exciting hands-on activities that focus on developing behaviors and actions needed for the betterment of our environment.
Chenowith Elementary youth in grades 3-5 will have the opportunity to participate in the Jr. Master Gardener's Afterschool Program starting April 23. This program will meet Wednesdays for five weeks. Participants will explore how to grow plants from seeds, learn about using plants as medicine and how to plan your own home garden. Youth will learn about beneficial and harmful insects, red wiggler worms for vermiculture and composting, as well as why pollinators, such as bees and butterflies are so important.
Youth from Chenowith, Colonel Wright, Dry Hollow and Dufur schools will have the opportunity to participate in Ag in the Classroom. Youth in grades 1-5 will explore what agriculture is and why it is so important through a fun, hands-on activity. Wasco County 4-H staff will visit the various schools and classrooms to deliver Ag In the Classroom to as many youth as possible.
Wasco County youth in grades four through 12 currently participate in ROV'ology. This 4-H afterschool program helps youth identify environmental issues such as the pollution in the Columbia River or plastics in our water systems by engineering submersible robots (Remotely Operated Vehicles or ROVs) to help resolve these issues, helping them to identify why it is important for us to be mindful of our everyday habits and their effect on the environment.
Instilling environmental awareness in our youth can help them understand the importance of maintaining a healthy environment as well as the interconnectedness between ourselves and our planet—not just on earth day, but every day!
Need ideas on how to become a better steward of the earth? You can plant a garden whether it's space in your yard or a container garden on a patio; buy from your local farmer's market; be mindful of your everyday waste; ride your bike to work instead of driving.
Do you recycle, re-use or terracycle? What about the packaging on the lunch you bought yesterday? Could you have purchased an item with less packaging? These are just a few simple ideas, but there are many other ways you can be a good steward of the earth.
If you have any questions about any of the Wasco County 4-H after school or in-class enrichment programs, please contact Holly Morris or Lynette Black at 541-296-5494.