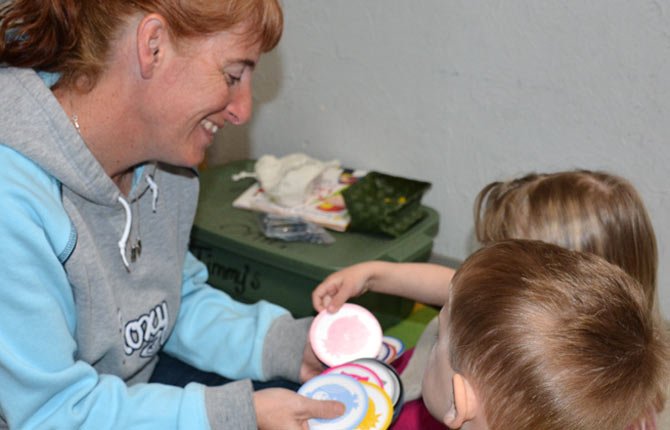 A preschool boy leaps up among his classmates, crosses his arms, stamps his foot and growls with a fierce scowl on his face — no, he's not starting a temper tantrum — he's pantomiming what "frustrated" means, a word few kids his age even know, let alone understand.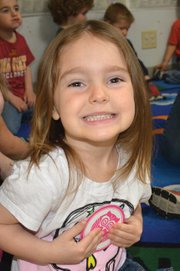 He's learning how to identify and understand his feelings with an educational "tool kit" called Pocket Full of Feelings.
YouthThink has partnered with Dr. Ann Corwin and Karin Lombardo to bring the kits to residents of the Columbia Gorge, which are designed to promote emotional literacy, After creating Pocket Full of Feelings, Corwin, a renowned psychologist cited as one of YouthThink's main mentors, and Lombardo named The Dalles the ideal pilot community in which to jump-start the program and raise awareness about emotional literacy and its affect on wider communities.
Emotional literacy is "the ability to identify, understand and respond to emotions in oneself and others in a healthy manner," according to its most popular definition. To be emotionally literate is to be able to handle emotions in a way that "improves your personal power, as well as the quality of life around you."
In order for children to demonstrate emotional literacy, they must learn to identify their emotions and master different strategies that allow them to respond in ways that do not cause harm to themselves or others.
"All of us, at one point or another, have asked a child, 'What's wrong?' or 'What's the matter?'" Debby Jones, certified prevention specialist and Wasco County YouthThink coordinator, said. "It's a common question, and one which also has a very common answer: 'I don't know.'"
Jones said it is precisely this 'I don't know' that Corwin's program aims to address.
"With Dr. Corwin's help, our coalition began to realize we were not addressing the root causes that answered the question of why our youth were turning to unhealthy behaviors," a joint YouthThink-Pocket Full of Feelings announcement states. "We were not aware of the biological and psychological fact that feelings come before behaviors."
As a result, Pocketful of Feelings became an important "turning point" in YouthThink's overall mission.
"It really showed us how important [emotional literacy] is when people are struggling with huge stress and how not knowing how to deal can start to eventually impact a person's physical health," Jones said. "So we looked around and said, 'Let's start doing stuff about it now and promote positive behavioral health early instead of trying to treat problems later on."
Jones also hopes to develop related tools to help older youths in middle school and high school, where misunderstood feelings can lead to negative behaviors including violence, alcohol and drug use, teen pregnancy and other unhealthy response patterns that may result when teens are unable to cope with feelings they don't understand.
"The basis of our understanding is that feelings come before behaviors," she said. "If you can identify that feeling and understand the behaviors that go along with that feeling, it helps us understand alternate ways to deal with our feelings instead of turning to self-destructive 'escapes.'"
The Pocket Full of Feelings "tool kit" YouthThink has trained various area educators to use with their students features 15 "feeling poffs," or small, round cards that show Poffer, the PFF owl mascot, exhibiting different facial expressions to represent each feeling. A "scared" Poffer, for example, is shown in black, with huge, wide eyes and a frozen expression, while an angry Poffer is colored bright red, complete with fierce-looking, narrowed eyes and scrunched eyebrows.
Poffer, Jones said, is "the wise old owl that teaches kids how to deal with their feelings. Everybody has feelings, and we all carry them around in our pockets. We can't just wake up in the morning and decide we won't be frustrated. The message is that it's okay to have feelings. Feelings come in waves; some waves you can handle, some just knock you over. It's not going to last forever, even though it sometimes feels like it is. It's all about understanding that there are no good or bad feelings. Mommy gets frustrated and teachers get mad sometimes, but it's what we do that really matters."
A "feel and deal pocket guide" included with the "poffs" uses cards to identify common behaviors associated with each feeling, and offers potential "ways to deal," along with various suggestions on how to cope with them.
For example, under "mad," the guide lists tantrums, saying bad words, screaming, not listening and hitting as common behavioral responses, and suggests students instead put their hands in their pockets, speak in a whisper and tell someone how they feel as alternate ways to express the same feeling.
With the initial grant funding YouthThink received from Pocket Full of Feelings, they were able to purchase 250 tool kits to distribute throughout the community, primarily placing them within schools and daycare organizations.
"Deal good, feel good" is the kit's motto, and among those trained in using the program's materials are members of MCMC's Great n' Small Child Development Center staff in The Dalles.
After building kit use into the daily routine, Great n' Small has seen children as young as three years old define what it means to be frustrated or shy in their own words, Jones said. Within about six months of introducing Pocket Full of Feelings activities, she said staff reported that students seem excited to learn about their feelings and are more engaged in classroom activities. Overall behavior patterns seem to have improved as students appear more inclined to make positive behavior choices and demonstrate increased empathy for others.
"What we really need people to understand," she said, "is that it's not a curriculum; it's a tool you can use in whatever way you want and will fit right in with whatever else you're already using."
In early December, Dr. Corwin and Poffer (or Jones dressed up in the official Pocket Full of Feelings mascot costume), visited many of the organizations that have begun to use the kits in their work with children.
"We want everybody to really own it, you know?" Jones said, smiling enthusiastically. "We literally want emotional literacy to go viral in the community; it could be our new prevention vaccine!"
"Kids tell me that they often turn to substances because they don't want to feel," she said. "The pressure they feel from their peers to do something they know isn't good for them is connected to the feeling of not wanting to feel left out. If we can start giving them some coping mechanisms that they can use to have a say in what they do with their emotions rather than just checking out to avoid dealing with their issues like they might normally do, I think it's a win-win."
Linda Griswold, YouthThink's marketing expert, said it was important to note that YouthThink's efforts to promote the Pocket Full of Feelings program as well as educate the community in emotional literacy is being conducted "on top of all the other things YouthThink already does all across Wasco county" and that they're "running on a very tight schedule" as a result.
The 18-month project is primarily grant-funded and has received a total of about $70,000 to move forward so far, but most of this money will likely be absorbed by program costs including the purchase of new instructional tools, conducting trainings and providing additional programming by next June.
The big challenge, both Jones and Griswold agreed, is how to sustain YouthThink's current momentum with the project on top of the organization's other offerings in the years to come.
"But if we can really make it work, just think of the kinds of things we could prevent!" Jones said. "Instead of just treating drug and alcohol problems, what if we started the entire process by educating them on how to deal with frustration and shame in the first place? We feel this kind of approach has the potential to impact generations."
For more information about the Pocket Full of Feelings project, go to www.pocketfulloffeelings.com, and to learn more about what YouthThink's doing to promote emotional literacy in the community, visit http://youththink.net.