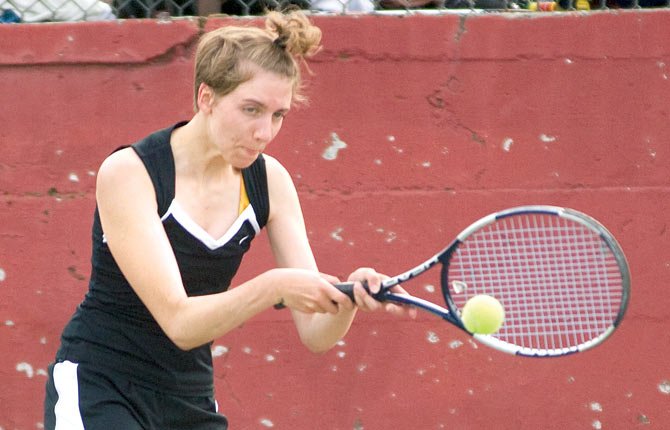 The Dalles head coach Debby Jones said she had been waiting for a type of breakthrough match for three years.

Two days after dropping an 8-0 loss to Ridgeview, the Eagle Indians turned things around with a lopsided 8-0 victory Thursday in a non-league girl's tennis match at The Dalles High School.
In eight doubles and singles matches, the Eagle Indians racked up 15 set wins out of the 16 played.
Jones saw an entirely different level of concentration and commitment to not just trying to win a match, but moving to the level of understanding how that could be accomplished.
"It was so much fun for each of the players to experience a solid win," Jones said. "Tuesday's loss could have been a bit discouraging but each of the girls concentrated on bouncing back with a solid performance. As a team we had one main goal – keep the ball in the green (in the court). I was thrilled to see the girls take that challenge seriously.
No. 1 singles player, Anna Miller, got the ball rolling on the whitewash with a 6-3, 6-1 winner over Gabby Villegas.
Robyn Pashek followed the trend in her No. 2 match, as she dropped Kendra Jones by tallies of 6-2, 6-2.
MJ Murrillo went on to defeat Jessica Nguyen 6-1, 6-3 in their No. 3 match, and Leslie Luna-Lopez completed the singles sweep with a 2-6, 6-1, 10-4 decision over Ky'allah Bello.
"Murillo and Luna-Lopez had solid wins that kept the momentum going for the rest of the team," Jones added. "Many of our players experienced their first varsity wins. We will keep this win in perspective and work hard to be able to back up the performance and pick up our first district win."
On the doubles slate, Johanna Wilson and Kiana Pielli took to task with another clinic in scoring a 6-1, 6-0 No. 1 doubles triumph, and Abby Minnick and Emma Ell-Smith combined forces for a 6-2, 6-4 winner.
"Was very pleased with the improvement in the return game of Wilson and Pielli," Jones said. "They put the pressure on their opponents by making sure they got that first ball in play. Instead of trying to win the point off the first strike on their own they were playing high percentage shots that set each other up for winners."
In their No. 3 matchup, Rebekah Kohltfarber and Brittany Watkins dropped a 7-6, 6-0 match, and the duo of Diana Fernandez and Ellie Trujillo capped the day on a roll of 6-3, 6-4 to take hold of their No. 4 tussle.
The Dalles has some time off for spring break and will hit the court again at 4 p.m. on Thursday, April 3 at Cascade High School.
Sherman forges a 5-3 opening win
The Sherman tennis team used a three-match sweep in the singles class and used doubles wins by Katherine Shafer and Addy Bates and Garak Casper and Brett Lane in a 5-3 pro-set win over Riverside Thursday in Boardman.
Karolyn Kaseberg got off to a solid start to her 2014 season with an 8-6 win over Bianca Barajas, and freshman Meghan Belshe rallied past Paige Blither in dominant fashion, 8-2.
Kathryn Shafer capped the singles schedule with an 8-4 decision over Bethany Andrade.
Shafer and Bates kept the winning element going with No. 2 doubles win, and Lane and Casper scored a 9-7 No. 1 doubles victory.
"We had a good first match of the season," said coach Kalie Rolfe. "It's always a relief to get the first match of the year played. The kids all did a great job sticking to their game plans and making adjustments for the weather."
The Sherman girls next host Condon at 4 p.m. on Thursday, April 3.