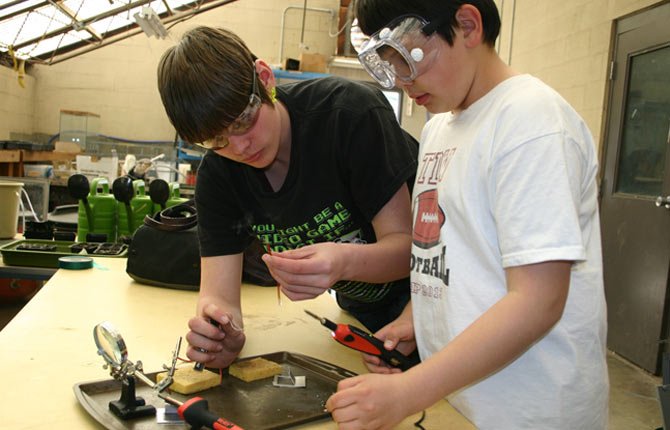 After finishing their classes for the day, a handful of students gather at The Dalles High School to work on projects designed to enhance their technology skills and learn how to build ROVs, or remotely operated vehicles.
At The Dalles High School, the 4-H "ROV'ology" after school program members meet every Tuesday to learn from one another and develop their skills as they prepare to compete in upcoming competitions.
Chase Sam, a fourth grader at Dry Hollow Elementary School, said he only recently started attending the tech program in the fall.
"I've really liked it so far," he said. "You get to learn a lot of different things."
After switching meeting locations from The Dalles Middle School to the High School, Sam said he began by building PVC-type cars before starting on his ROV, when he learned how to wire the switch blocks used to control it.
Holly Morris, 4-H Educational Program Assistant at the OSU Extension Service, said students as young as Sam and all the way up through high school can participate in the 4-H tech programs.
Damon Spagle, an eighth grader at The Dalles Middle School this year, said he's interested in pursuing a career in engineering.
"I've been [a member] for about three years now," he said, "so it's something I've been thinking about for a while."
The Dalles tech team took first place in their division at the first annual Gorge Gravity Games in 2012.
Brandon and Logan Kalsch, an eighth grader at The Dalles Middle School and a tenth grader at the high school respectively, are brothers who have taken part in the 4-H ROV program for several years.
The elder Kalsch was the most advanced tech participant present at the after school meeting on Tuesday, March 18, and is classified as a "Navigator" level tech.
At the meeting, he was working on what he called an "underwater submersible" ROV.
When asked what kind of career path he was considering, he said simply, "Guitar."
Morris, who is a member of the games' planning committee, said they decided to skip holding the event this fall, but hope that there will be opportunity for students to compete in the games next year.
"Organizations like Google and Insitu are the ones that make having such competitions possible," she said. "They're the ones that give us the grant funding we need to make them work as well as donate the necessary equipment… They're really involved in making sure tech programs like ours are maintained."
Over the years, Morris said the growth of the program has been exponential.
"Five years ago, we had one tech after school program and maybe five kids 5enrolled. Within four years, we managed to get five after school programs up and running and are reaching approximately 100 student members between fourth and twelfth grade."
The tech programs, Morris said, span across the Dufur school district as well as North Wasco County. This year, an Awesome class at The Dalles High School was dedicated to teaching students how to build ROVs.
Program volunteer Cindy Crampton said the 4-H tech programs at each school are "family affairs."
"I like lending a hand to support the kids," she said. "They get to do some really great things here; it's a great program."
The Wasco County ROV'ology after school program meets every Tuesday from 3:30 p.m. to 5 p.m.
For more information about what the 4-H tech programs have to offer area students, call Morris at the OSU Extension office at (541) 296-2135, or visit http://extension .oregonstate.edu.