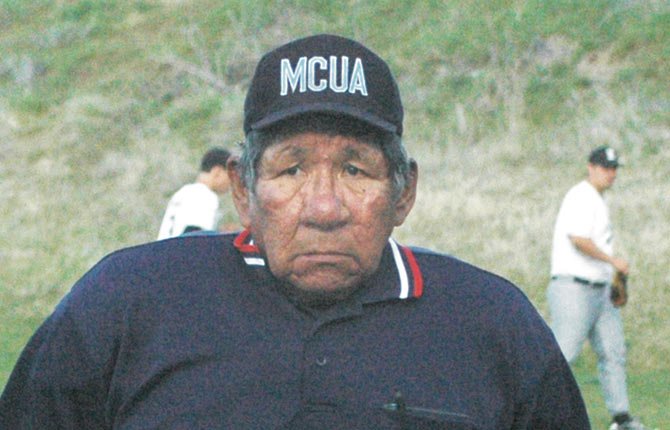 The skies above the greater Columbia Gorge were a picturesque blue with nary a cloud in the sky, as baseball and softball teams hit the diamond to play the game they love Monday on the first day of spring break.
The crowds were cheering, athletes were chanting and offering praise — a perfect backdrop of competitive athletics in its purest form.
Just the way Eddie Edmo would have wanted it.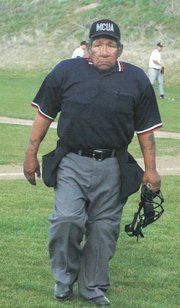 Edmo, 74, died Sunday night at a rehabilitation facility in Idaho, more than seven months after sustaining serious spinal injuries in a car accident Aug. 19, 2013.
Before games were played, athletes, coaches and fans bowed their heads for a moment of silence to honor an umpire, who patrolled the fields for 36 years.
From his many interactions as American Legion president to public address announcer and radio broadcaster, Wasco County Commissioner Rod Runyon called the baseball field Edmo's home.
As he scanned Bob Williams Field late Monday night, Runyon could not wrap his head around the notion of Edmo not calling games.
"He was one-of-a-kind. He was a great character who would do anything for baseball and for the kids," Runyon said. "He was fair, he always called a good game and gave 100 percent to it, all the time. A good man."
During his 36-year tenure, Edmo officiated football and basketball games. On the diamond, he was an umpire in softball and baseball, from Little League to collegiate levels.
Edmo also officiated some state playoff games.
The Dalles softball coach Steve Garrett remembers Edmo, a TD graduate, as the school mascot in the late 1950s.
Dressed in his Native American regalia, with a beaded chest shield and traditional headdress, Edmo would lead the crowds in his native dance in an effort to bring fun to the games.
"He loved it. He had no qualms with The Dalles' teams being called the Indians. Actually, he took pride in it," Garrett said.
That was just part of the persona Edmo presented. Whether officiating games or being around children in the community, he loved to have fun.
Rod Runyon smiles when recalling to a picture of Edmo with The Dalles swim team hanging on the walls of Spooky's Pizza.
He said Edmo would climb up to the highest diving platform and perform cannonballs, splashing water on everyone around.
The quick-witted official was fast to offer a bright smile and offer congratulations.
Edmo often had a one-liner in his back pocket to bring levity to the game, something Garrett always appreciated.
"What he taught me was that you can have that sharp edge of authority, but still be a fun guy to be around," he said. "There is a lot to be learned from that whether it is parenting, coaching, umpiring, everything."
Edmo was known for many things – he was a gentleman on the field, who treated the game of baseball with respect and demanded the same from players and coaches.
Before every American Legion Hustler season, The Dalles baseball coach J.R. Runyon said Edmo would attend parent meetings to discuss player conduct and expectations.
When he uttered his first sentence, it was clear that a strong position was going to be taken.
"He would always tell us what he is looking for, basically just wanting these guys to be good human beings and good character kids," J.R. said of Edmo's interaction. "He preached being responsible, and being respectful of the game, the officials and everybody. That was his main message every single year."
For more than two decades, Edmo served in high positions for the Mid-Columbia Umpires Association from president, vice president to member-at-large.
Edmo also served as commissioner of the summer baseball officials.
One umpire who soaked up knowledge and golden tidbits from Edmo over the years is Robert Jamack.
Last November, the Mid-Columbia Umpires Association lost Kurt Stender after a battle with cancer. Adding Edmo to the list of brethren passing on really hit home.
"It was shocking. I knew he had been in a care unit since his accident," Jamack said. "Just seeing on Facebook that he had passed away took me back. You never expect it and you are never ready for it. It is a sad day in the umpiring realm. We lost Kurt Stender in November and now this. We have lost two integral members of our family in the past year, so it is tough to take."
So much is needed to perform the task of umpire and official.
Long-time Babe Ruth president Butch Hert said Edmo took the time to help umpires throughout the various leagues in training exercises.
Hert classified Edmo as a hard worker who was committed to whatever he was involved in.
He had been around Edmo for nearly three decades, so he knows the man and the personality as good as most.
Jamack knew Edmo was a phone call away in case an official was needed nearby.
His gear was neatly packed in the trunk of his car.
Edmo had one thought in mind in doing so.
"The kids were his first concern," Hert said. "He ensured that these youngsters had a fulfilling experience playing a game we have all grown to love. He was a friend to all of us and an asset to the community."
There was a cascade of emotions in the hearts of everyone Edmo came in contact with. The stories and anecdotes are endless.
It is those recollections that many will remember as snapshot moments that embody everything Edmo brought to the game.
Garrett went on to add that Edmo is deserving of so much more than just a moment of silence.
His legacy lives on.
"It is a big loss to me. It is like one of those icons in your life history suddenly removed," said Garrett. "It is one of those major mountains that gets moved in your life and you stop and try to put it all into perspective."
Having Edmo around his life for so many years is something the younger Runyon considered a blessing.
Edmo helped develop the framework of Americana in his life.
His passion for the game and leading today's youth has taken center stage.
Just as Edmo would design it.
"A lot of times, being an official is a thankless job," J.R. said. "These umpires spend so much time on the ball field, so these kids can play this great game. That is part of it with Eddie and a lot of these other guys. Sometimes, they are not thanked before it is too late."