Thousands of cyclists will descend on The Dalles and greater Wasco County this coming September as Cycle Oregon takes on "The Magnificent Seven," the seven Cascade peaks that stretch out to the north and south of The Dalles — and The Dalles Main Street organizers want the town's businesses to be prepared.
Centrally located for this small city on wheels, The Dalles will serve as "home base," providing both the beginning and ending location for the big event.
With so many two-wheelers in town, the Main Street folks are offering workshops on how to make businesses bike-friendly Monday, April 7, at 5 p.m., and Tuesday, April 8, at 8 a.m., in the Urban Paper classroom at 212 Washington St.
"Travel Oregon has a bike-friendly certification you can go through," explained Matthew Klebes, The Dalles Main Street coordinator. "You can go online right now and go through the process, but sometimes it can be confusing or cause technical difficulty."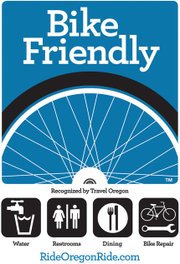 So Main Street is offering a little leg up with some expert advice. Chad Sperry from Breakaway Promotions will facilitate the workshops. Sperry has brought a number of cycling events to The Dalles and the greater gorge including the Cherry City Cycling Classic and the Mt. Hood Cycling Classic, among others.
"Travel Oregon is focusing a lot of attention on the bike-friendly business certification, as well as targeting the new Historic Columbia River Highway Trail (HCRHT) in their national advertising campaigns," Sperry said. "Both of these provide opportunities for businesses in The Dalles. The HCRHT project represents one of the most breathtaking bikeways in the country, connecting cyclists from Portland to The Dalles. With The Dalles being the eastern gateway of this bikeway and, more importantly, downwind of Portland, this is yet another marketing opportunity for businesses to be found by cycling enthusiasts touring the gorge."
Oregon is the first state in the nation to create a Bike Friendly Business program, according to Travel Oregon information.
The idea is:
• to help businesses understand the importance of Oregon's growing bike tourism industry,
• provide tips and tools for how businesses can be bike-friendly,
• and to highlight businesses that commit to enhancing the Oregon biking experience for visitors and residents.
According to Travel Oregon's estimate, bicycle-related tourism contributes $400 million to Oregon's economy every year.
Under the Bike-Friendly Business program, businesses must provide at least two services or amenities from the approved list. Examples include services related to bike repair, complimentary bike parking and locks, complimentary drinking water, complimentary product shipping, dining, first aid, wi-fi and public restrooms.
"For example, The Whole Ball of Yarn might not be able to provide some of those services, but they could provide complimentary shipping for people who want to buy souvenirs there," Klebes explained. Cyclists won't want to carry the added weight of souvenirs, but free shipping might make them more attractive.
Lodging properties must provide secure and dry bike parking for overnight guests by either allowing visitors to bring their bikes into their rooms or providing a locked, fenced-off area in their parking garage, lot or storage room.
Special provisions also apply to campgrounds and restaurants.
"The certification identifies that a business will provide simple amenities that assist with a cycling tourist trip and put them near the top of the search for food, lodging and shopping," Sperry explained. "In the next 2-3 years the HCRHT will be completed with the creation of the Mitchell Point Tunnel and tourism and revenue for The Dalles will continue to increase significantly."
Mid-Columbia Economic Development District will be providing laptops so business owners can sign up during the workshop.
The Dalles is one of the first Oregon towns to hold such a workshop and its flyer is now the Travel Oregon template.
McMinnville and other towns soon will also be offering workshops.
The Dalles already has two official bike-friendly businesses, Anzac Tea Parlour and Urban Paper.
"We want to have open arms to welcome cyclists," Klebes said.
The discussion about bike tourism began in earnest as talk of finishing a bike trail between Portland and The Dalles began.
"The Dalles is the end, or the beginning for that trail, depending on your direction," Klebes said. "We have to be an anchor for the trail — a place where cyclists want to stop and be for a while."
Certified bike-friendly businesses may also qualify for a bike-friendly sign to post in their storefront.
The Dalles Chamber will host additional workshops in May.
For more information and to get a registration form, call 541-370-2966 or email tdmainstreet@gorge.net no later than April 4.