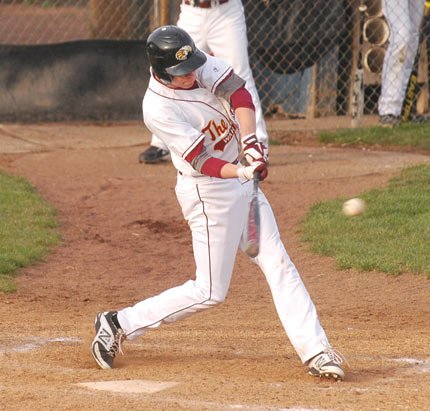 If not for a pair of one-run losses to Marist and Bend, No. 14 The Dalles baseball team could have an unblemished record.
Coming off an 8-7 setback in Bend Saturday, the Eagle Indians broke out the big sticks for 19 hits and 26 runs in two lopsided wins over Franklin and Parkrose Monday afternoon at Quinton Street Ballpark in The Dalles.
"We were just feeding off one another and the chatter in the dugout was really nice," said outfielder Gordy Harris. "We brought up the energy and we were hitting really well. When we are hitting, everything flows better. It goes to show in the scores we put up today."

In the opening contest, the Tribe fired off the first 11 runs, using a six-run first and a four-run second to impose their will against the Quakers.
Nolan McCall paced the seven-hit barrage with a home run, two walks, three runs and two RBIs.
Zach Cantrell continued his hot hitting with a 2 for 2 split with two runs and three RBIs, and Clay Copper added a hit, two HBPs, two runs and an RBI.
Rounding out the statistical leaders was Harris, who went 1 for 1 with a sacrifice fly and three runs batted in.
Colton Walker got the start and tossed 2 2/3 innings of no-hit ball with four strikeouts and two walks to pick up his second win of the season.
The stout offense kept chugging along in the nightcap with four players getting multiple hits and five players scoring multiple runs in a 12-4 decision over Parkrose.
TD scored four runs in the first frame and added five more in the fifth to give starting pitcher Colin Noonan all the support he would need.
Noonan lasted four innings and scattered two hits, one unearned run and three strikeouts.
Steven Bartells went 3 for 5 with a double, three runs and an RBI.
Austin Wilson contributed a 3 for 4 outing while scoring two runs and driving in two more.
Noonan went 2 for 3 with a walk and two runs, and McCall checked in with two hits, two walks, a run and an RBI.
On Saturday in Bend, the Eagle Indians and Lava Bears played seven innings of scoreless ball until the top of the eighth when the Tribe busted loose for five runs to hold onto a 5-0 Game 1 victory.
McCall and Wilson had a hit, a run and two RBIs apiece, and Cantrell went 1 for 4 with an RBI.
Noonan, Harris and Zachary Keimig tacked on a hit and a run scored each.
Wilson tossed seven innings and surrendered three hits to go with five strikeouts and two walks to get the win.
Bartells shut the door in the bottom of the eighth retiring the side on a groundout and two strikeouts.
In the second game, the Lava Bears erased an early deficit and scored the eventual game-winning run in the bottom of the fifth inning to notch the 8-7 triumph.
Clayton Ringer picked up the loss, as the southpaw gave up six hits and walked four and allowed four runs in his 4 2/3 innings pitched.
Cantrell and Ringer netted two hits and a run scored each, and Harris added a 1 for 3 effort with a double and two RBIs.
Copper went 1 for 2 with a double, a walk and two runs scored.
"We have come out and competed with a lot of good teams early on," Cantrell said. "I think in these first couple of games that we showed that we are a high team and that we should do pretty well the rest of the season."
The Dalles (4-2 overall) heads to 6A Century High School (3-1) for a 2 p.m. tilt Thursday.