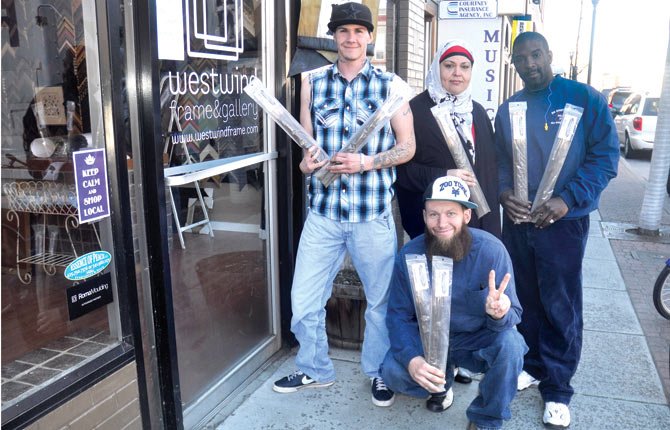 Michael Powell, Yolanda Rios, Josh Al-Jaouni and Kelvin Lucas hope they and their business, Essence of Peace LLC, can serve as inspiration for people with challenges to overcome in their lives.
"We started this business with $59.63, hope and a dream," Powell said. "We'd tried a couple of times before and it wasn't right. God is the best planner and we're just along for the ride."
Right now, Essence of Peace is based in a three-wheel bicycle, but it will soon be established at the location of the former Nook gift shop in the St. Vincent de Paul building, selling handmade incense, soaps, lotions, bodywash and handmade jewelry.
"At this point and for the past three months, we've been running around the streets and selling to the general public," Powell said.
They also have a sales display at Westwind Frame and Gallery and Ms. Fitz. They've also been working with local businesses like Aeroprint and Craig's Office Supply to have their business needs met.
"My dream is to have a chain of stores in the state of Oregon and to be mass producing homemade incense," Powell said.
Rios is the chief incense maker, concocting more than 200 different scents including Pink Sugar, Black Love, Pink Love, Paris Hilton and many more. Her personal favorite is Pink Sugar, while Powell's is Black Love and Al-Jaouni's is Pink Love, a combination of the two.
"[I like] all of them," said Lucas.
Al-Jaouni also helps make the incense and sells it, while Lucas and Powell enjoy selling and promoting for the business.
The Essence of Peace owners say their product, incense, is different from most store-bought incenses, which can contain chemical agents used to extend the product. Some people have described having headaches as a result.
For that reason, Powell said, "a lot of people don't like incense. They've sworn off."
Their product doesn't contain the chemical agent. It's also alcohol-free.
"If I go to the store and I buy a Pepsi, I'm not going to put in this much Pepsi and fill it with water, am I?" he said. "I want all Pepsi."
Absence of the extenders allows the incense to last longer, smell more and have a better presence.
All the owners of Essence of Peace describe themselves as coming from earlier "rough lives."
"Coming this far to being business owners, that's a big change in our lives," said Al-Jaouni.
"There's been a lot of personal growth in all of us," Rios said.
Powell, for example, shared his story of traveling homeless from town to town as a child, following his heroin-addicted mother, then later battling a meth addiction.
"I grew up going through special education and special needs schools, so I believe in giving people a chance," Powell said. He hopes at some point soon to work with developmentally challenged people through Community Connections.
Now, Powell is proud of the progress he has made in life, crediting his faith in God and his wife, as well as his family/business partners.
"A customer last week texted me to tell me that it's an inspiration hat we could actually go and start our own business," he added.
However, the greeting isn't uniformly positive, they say.
"I admit, we do run into a lot of prejudice," Powell said. "We're Muslim and we do have an African American brother. But we take it in strike and keep a smile on our faces."
"We can't make everybody happy, but we try," Rios added."
Rios also makes jewelry, along with Al-Jaouni's mother, Gigi Agobe, who wasn't present for the interview. They make bracelets, necklaces and earrings using glass and crystal beads, silver and stones.
Essence of Peace owners also travel to different cities to sell their wares, including Hood River and Portland.
"That way we can help bring business to The Dalles in a sense," Powell said.
Find Essence of Peace on their Facebook page, at Westwind Frame and Gallery, and Ms. Fitz, and soon at their West Ninth Street shop.