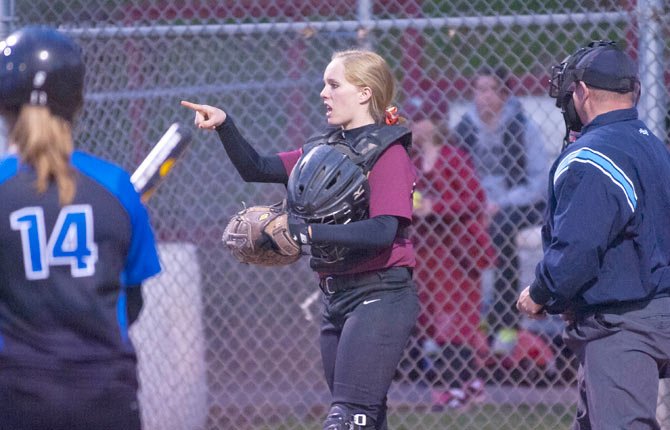 The Dalles head softball coach Steve Garrett used this week's four-game slate at the annual TD Invitational Tournament as measuring ground to see what players fit in the right spots.
In 26 innings played, the Eagle Indians recorded a no-hitter from pitcher Morgan Triperinas, a 210-foot grand slam by Sierra Watson and continued steady play from the duo of Hannah Harris and Ruthie Ford to produce a 3-1 record with victories over Molalla, Century and Mountain View.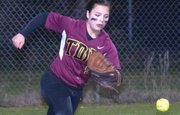 "This tournament showed exactly what we wanted," said Garrett. "It showed us where the players are and where we want them. We were able to evaluate our team very well and so I think it gives us a good gauge as to what parts fit in the right places. A lot of girls proved themselves immensely. We are in a good place I believe."
Coming off a three-game stretch in a span of 24 hours, the Eagle Indians had a tough test in Tuesday's finale against No. 6-ranked 6A Gresham in a matchup that had the Tribe down 8-0 entering the bottom of the seventh inning.
TD put up five hits, used a couple of errors and a walk in the frame and had runners on second and third with one out and outfielder Timarra Roth at the dish.
In her six-pitch at-bat, Roth had one of her foul balls bounce less than a foot foul that would have crept her squad closer, but she ended up hitting an RBI groundout to short to chase home Grace Helyer to move the Tribe to within an 8-6 deficit.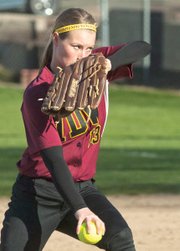 With two outs and Watson at third base, TD ran out of bullets, however, as a game-ending comebacker ended the threat.
The Eagle Indians posted 11 hits and four walks on Gresham ace Emily Evanson, but she struck out four and stranded nine Tribe base runners in her complete-game effort.
"Tonight, we played a great ball game against a good ball club," Garrett said. "To come back against the six-rated 6A team, showed me a lot about the heart that this team has. They want to win and they are never going to give up until that final out."
Earlier on the day Tuesday, Ford went 2 for 5 with two runs and an RBI, and Maddy Bradford added two hits, a walk, a run and two RBIs in an 8-4 win over Mountain View.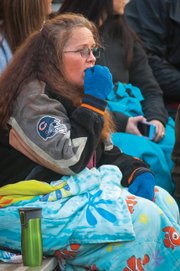 With two runners on base with no outs and her team clinging to its four-run lead, Watson came in relief of Triperinas and recorded two flyouts and a strikeout to record the save and preserve a win.
Morgan Goslin, Triperinas and Watson had two hits each, Jez Farrell had a double and an RBI, and Lori Cimmiyotti went 1 for 3 with a walk, a stolen base and a run scored.
All the fireworks occurred in the tournament opener Monday, Triperinas struck out four and walked two in picking up the no-hit win in an 18-0 romp.
The senior right hander allowed only one runner to advance as far as second base and she retired the final nine batters she faced.
"I had no idea I was throwing a no-hitter. It feels awesome to do this, but I don't want to take any credit," Triperinas said. "This goes to the team. My defense played great behind me and my catcher (Grace Helyer), knows me so well that we were on the same page all game."
Ford slugged a home run in the first inning to help give the Tribe a 2-0 lead, and then two more runs in the second frame moved the lead to 4-0 until a demonstrative third inning to put the final nail in the coffin.
In all, TD sent 14 batters to the plate and seven picked up hits.
Watson started the scoring with an RBI double to center to plate Helyer to make it 5-0.
Cimmiyotti added a sacrifice fly to score Watson, and Goslin chased home Roth with an RBI single to run the count to 7-0.
A two-run single by Triperinas made it 10-0, and with Triperinas on third, Bradford at second and Helyer at first, Watson blasted her first varsity home run 210-feet to left field for a grand slam to cap the scoring.
Helyer would add a two-run double in the fourth, Watson hit an RBI sacrifice fly and Triperinas scored the final run on an error.
In their Monday nightcap, the eagle Indians fell behind 4-0 through a half an inning, but tacked on a nine-run explosion in the home half to roll to a 17-9 triumph over 6A Century.
Harris went 3 for 3 with a triple, a walk and four RBIs, and Ford rapped out three hits and three RBIs.
Roth pelted a 3 for 3 effort from the plate with an RBI, and Farrell had two hits and four RBIs to pace the offense.
Bradford got the win from the circle, and Watson tossed 3 1/3 innings to notch the save.
TD (6-2) hosts No. 7 West Albany at noon Saturday.