In the spring, at the end of the day, you should smell like dirt."
―— Margaret Atwood,
"Bluebeard's Egg"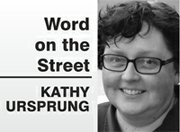 Help with coverage: The open enrollment deadline to sign up for Cover Oregon coverage is looming March 31, less than a week away, from 10 a.m. to 6 p.m.
Revel Coy Insurance will host a special walk-in event this Friday, March 28, to help people who want to sign up. They'll have a representative from Cover Oregon on hand to help, as well as two local community partners and two certified agents.
"If you have submitted an application and haven't heard anything. If you need help with an application, please come, we can help," their announcement states. They also speak Spanish.
Revel Coy Insurance is at 1419 W. Second St., in The Dalles. For more information, call 541-296-1144 or email rci4ins@gmail.com.
Learn traffic control: Cheryl Rohan of Crestline Construction, The Dalles, will teach a traffic control (flagging) class Satruday, March 29, beginning at 10 a.m. at the Crestline Construciton office, 3600 Crates Way, The Dalles.
Rohan has 24 years of construction experience and is a flagging instructor, traffic control supervisor, certified flagger and pilot car escort.
The class is approved by the Oregon Department of Transportation through Chemeketa Community College. Certification is good for three years and recognized in Oregon, Washington, Idaho and Montana. To register, call Rohan at 541-620-1702.
Talking business: Mid-Columbia Economic Development District, Wasco County Economic Development Commission, and The Dalles Area Chamber of Commerce will host an Oregon Business Plan roundtable discussion in The Dalles April 2 from 1:30 to 2:30 p.m. at the lecture hall at Columbia Gorge Community College.
This event is open to the general public. The roundtable will include a presentation on the Oregon Business Plan and provide an opportunity for discussion of local input to statewide policies and of regional priorities.
This is an opportunity for local employers and those organizations who are working on economic development for area to come to the table.
The Oregon Business Plan is a statewide initiative of Oregon's business community to shape a long term strategy for creating more quality jobs.
Seeking volunteers: The Dalles Main Street is seeking volunteers for a downtown spring clean-up April 16 starting at 9 a.m. and April 19 from 9 a.m. to 1 p.m. This is an opportunity to serve the community and strengthen downtown The Dalles, said Main Street coordinator Matthew Klebes.
To sign up for the event, contact Klebes at 541-370-2966 or email tdmainstreet@gorge.net to let him know what date and time works best.
New professional on campus: Cody Yeager is the new director of transfer and pre-college programs at Columbia Gorge Community College. Yeager most recently worked at Central Oregon Community College and brings a background in college adminstration, strategic planning and diversity development to the position. Yeager started in January. Yeager's other professional achievements including military, university teaching and tribal education leadership experiences.
"I am just incredibly enthusiastic about CGCC's future and, even during the interview, I just kept clapping my hands because I was so excited about the possibilities," Yeager said. "CGCC is in a transition period, moving from being a small to medium-sized college. It's poised for great growth, but it's no secret that the work is going to become much more intense and require great focus."