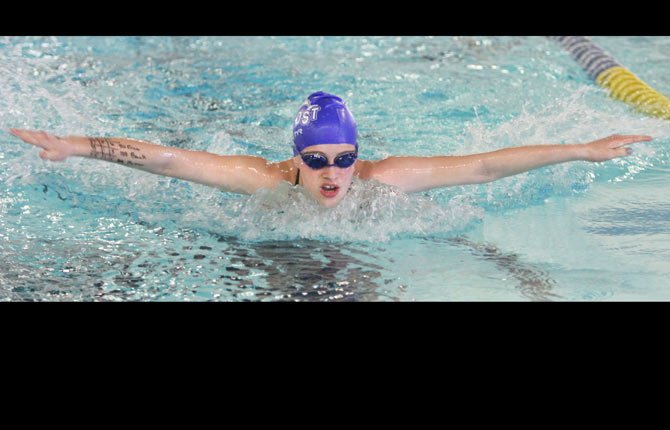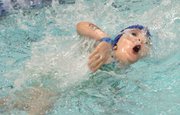 With total tally of 66 points and five top-5 performances, The Dalles Swim Team set the bar high for a solid foundation at the two-day Dan Perz Memorial Open ending March 16 in Lake Oswego.
All told, there were 21 swimmers signed up for various events, with Natalie Varland, Petra Van Kessel-Ervin, Mac Abbas and Lydia DiGennaro each picking up the top-5 placings.
"I'm very proud of TDST swimmers," said head swim coach Angela Johnston. "They set some personal bests, dropped lots of time across the board, and a few were very close to state times. Competing in Lake Oswego was a great way for the team to wrap up their winter season."
Varland, 12, scored high in her 11-12-year old classification races, taking second place in the 50-yard breastroke in a time of 40.46 seconds.
Adding distance to her breastroke for the 100-yard race, Varland placed third with a final tally of one minute and 30.76 seconds.
DiGennaro, 8, competed in the 8-and-under division and she notched third place in her attempt at 25-yard butterfly where she touched the wall in 22.78.
She tacked on sixth place in her 50-yard freestyle with a final run of 43.64.
Abbas, 12, participated in five events overall, but fared best in the 100 freestyle and breastroke.
In the freestyle, Abbas shaved 16.93 seconds off his previous best with a 1:14.19 for fourth place.
He cut down 12.52 in the 100-yard breastroke where he stopped the watch in 1:37.13 to grab fifth place.
Mollie Daggett, 13, secured sixth place in the 200-yard breastroke (3:57.72), as did Kennedy Abbas, 8, who had her best efforts in the 25-yard butterfly (29.21).
Megan Heron, 14, added seventh place in the 200-yard breastroke with a time of 4:00.26, and Van Kessel-Ervin, 12, had six events penciled in and a third place rally in the 100-yard butterfly in 1:44.77.
Van Kessel-Ervin tacked on seventh in the 50-yard freestyle (30.85) and had another seventh in the 50-yard butterfly (41.14).
William Evans, 11, had eighth in the 100-yard backstroke (1:47.41), Levi Grimsley, 7, was ninth in the 25-yard freestyle (30.80) and Titus Grimsley, 9, placed ninth in his try at the 100-yard backstroke (2:10.38).
"We had several swimmers show significant improvement in their technique," Johnston added. "Congratulations to all swimmers on their achievements and representing their community admirably."
Trace Larson, 7, had a 10th-place outcome in the 25-yard freestyle (34.73), Lucille Booth, 9, carded eighth in the 50-yard butterfly (47.17), Lydia Evans, 12, turned in an eighth place slot for her try at the 100-yard breastroke (2:05.61).
Johnston mentioned the hustle and heart showed by Lillian Dupuis, 8, who had a pair of top-20 turnouts in two events.
Dupuis did best in the 25-yard backstroke, where she touched the wall in 27.13.
"Lillian Dupuis, a first time swimmer, stepped up to her lane for her first event as if it was nothing, so calm and eager to swim," Johnston said.

TDST is working on a team that will start in June.

Interested swimmers should log on to www.tdswimteam.org for current schedules and registration news.
.