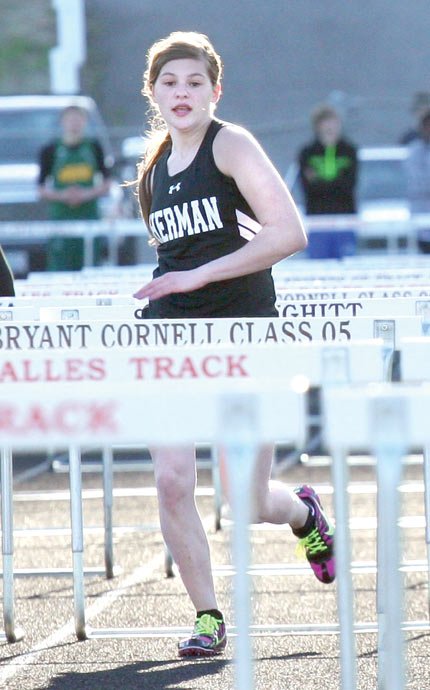 The Sherman boys and girls tapped out top-3 outcomes in the standings, and the trio of Andie Harrison, Brittney Orendorff and Isaiah Coles secured first place in their respective events in Saturday's Sherman Invitational in Moro.
Orendorff got the gold medal run started in the 100-meter hurdles, where she set a top marker of 19.01 seconds.
Harrison kept her state pace in javelin with a distance of 115-feet-9 inches for first place.
In the same event, Janet Guzman notched sixth place at 89-10.
Orendorff nearly completed the hurdles exacta Saturday, as she stopped the watch in 55.04 for second place in the 300-meter hurdles.
Harrison added another second-place output in the 400 meters with a time of one minute and 5.27 seconds, and Meagan McKinney kicked in another silver medal performance in the 100 meters in 13.94.
The 4x100-meter relay team of McKinney, Harrison, Orendorff and Sabrina Green-Hite combined forces for second place with a marker of 55.53.
Jasmine Wilson tallied third place with her 3:04.92 in the 800 meter race, and she added a fifth in 1,500 meters where her time of 6:33.76 placed her in the top of the pack.
Corbett won the women's classification with 110.5 points, ahead of Sherman's 71 on the scoreboard.
On the boy's side of the bracket, Goldendale picked up several top efforts for 134 points and first-place recognition.
Corbett (109), Sherman (88), Lyle-Wishram (84) and Heppner (49) capped the rest of the field.
Coles did his damage in his jump tries, taking a dominant surge in the long jump in a distance of 19-10.5.
The freshman added a 40-02.75 in the triple jump for his other first place marker.
Right behind Coles in the triple jump was fellow freshman Maverick Winslow, who hit the dirt in 39-1.5 for second place.
Tanner Sandquist churned out a second-place finish in the 800 meters in an impressive 2:23.60, and the quartet of Nick Coleman, Winslow, Blake and Brett Evans motored home for a 46.53 to chalk up second place.
Winslow picked up second place in the high jump with a height of 5-8, and Coles wound up third with the same reading.
Luke Lawrence touted high for third place in the 400 meters with his 59.83, Blake Evans had third place honors in javelin at 132-03, and the junior kept pace in the 200 meters where his time of 25.02 was good enough for second place.
Along with Blake Evans, Coles placed fourth in 25.04 and Winslow tallied fifth place with his 25.28.
The Sherman track team hits the events once again at 5 p.m. for the Culver/Madras Meet at Culver High School on Tuesday, April 1.