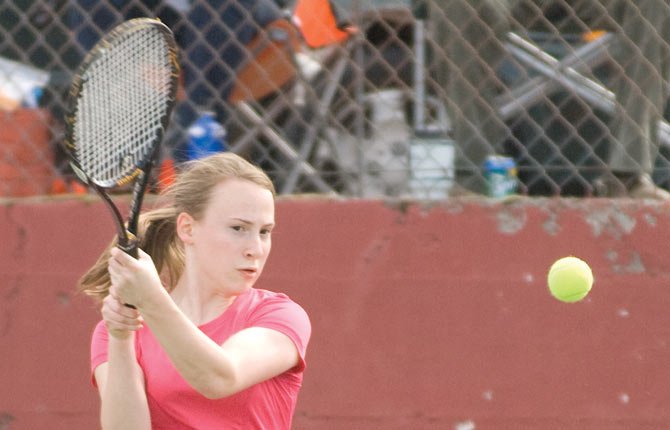 The Dalles girl's tennis coach Debby Jones is slowly but surely building a future powerhouse tennis program.
She is in this for the long haul and is ready to roll up her sleeves.
With a rebuilt roster led by Anna Miller, Johanna Wilson and newcomers, Kiona Pielli and Robin Pashek, those visions of grandiose could become reality.

"Potential is the key word for this season and we will be pushing each player to find a new level of what they previously thought that could be for them," Jones said. "The Dalles used to be a tennis powerhouse. There have been some lean years recently, but our goal as a program is to change that landscape and bring it back to its glory days. That is our ultimate goal and I believe we have the players to reach that."
Miller is penciled in as the team's No. 1 singles player, and could also see some time in the doubles class.
Wilson, a sophomore, soaked in loads of experience while playing doubles with graduated senior Katie Mazeski. They finished strong at the district tournament by winning the consolation bracket.
She is also a versatile enough player to hit the courts in singles or doubles action.
Both Pielli and Pashek have developed strong fundamentals through the help of The Dalles Fitness and Court Club Tennis Pro's Craig Pierce and Dave Sturdivant.

Jones said they have hit the ground running in their first varsity seasons, so the future is bright.
"My hope is that we will see marked improvement over the season because of the depth provided by the four previously mentioned girls," Jones said.

Other young players to watch include freshmen Abby Minnick, Cassie Vasquez and Ellie Trujillo. Jones said these three freshmen have the opportunity to play key roles at a young age.
Sophomore returners Emma Ell-Smith, Rebekah Kohltfarber, Diana Fernandez and Leslie Luna-Lopez have some quality court time at their disposal and will be leaned on to improve through playing varsity competition.
Adding veteran leadership is critical to success, and Jones has four-year seniors Brittany Watkins and MJ Murillo, who Jones feels are in line to finish their careers on a good note.
During the non-league slate, Jones will juggle lineups to get the right pieces in the right places to enjoy success as the season progresses. "I have high expectations for this season," the Tribe coach said. "We have gone over two years without having a league team win. We hope to change all that and become a team that others have to think twice about playing instead of an easy win on their schedule. We may still be a year away from battling for a state berth but I would also not count the possibility out."
While leaning on her players to continue tennis in the off-season in addition to several hours in the weight room, she wants the continuity to breed a champion's mentality along the way.
The coach added that she feels comfortable leaning on a group of supportive parents, so a collaborative effort all around is something that creates a cohesive bond.
"That combination lends itself to positive outcomes now and down the road," Jones said.
TD heads out to Cascade High School for a non-league match at 4 p.m. on Thursday, April 3.