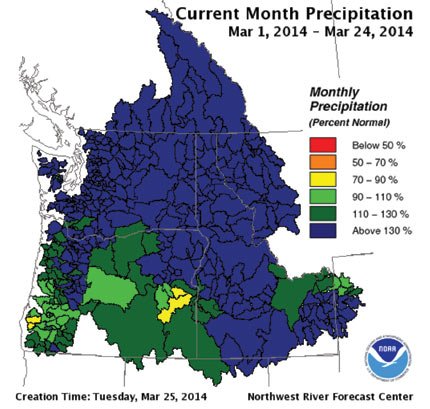 Even as some areas in southern Oregon continue to endure drought conditions, normal to above normal precipitation in the form of rain and snow in northern Oregon, Washington and British Columbia are good news for river flow along the Columbia River — and that means good news for wholesale electricity prices.
That was the word from Kurt Conger, Northern Wasco County PUD's supply and transmission guru, at the PUD's board meeting March 25.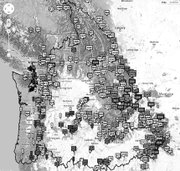 February and March precipitation levels in parts of Oregon and much of Washington were above 130 percent of normal. That's a big change from the preceding three months, when precipitation amounts were below half of normal both states and Idaho.
"There's a lot of snow in the intermountain ranges," Conger said. Those areas of British Columbia and the Idaho panhandle are where much of the Columbia's water supply comes from.
As a result, authorities at the National Oceanic and Atmospheric Administration are predicting at or above-normal from April to September.
"The water supply forecast volumes are clicking up day by day," Conger said.
Wholesale power is traded as a commodity and December power prices for delivery in 2014 were showing a big uptick in anticipation of a drought. But that changed, Conger said, as a result of significant February and March precipitation.
Conger also showed the board a chart predicting steadily increasing bulk power prices through 2022. That's significant for the PUD because it is expecting to need additional power resources beginning in late 2015.
Historically, the PUD's policy has been to develop its own power resources, Director Milt Skov noted.
However, the utility has also been exploring partnerships and purchases from other sources. One of particular note at the meeting was the development of a natural gas power plant at Troutdale on the site of the former aluminum plant. Early estimates of its capacity, as proposed to PGE, is 650 megawatts.
Power from the plant might be an opportunity worth exploring, said PUD General Manager Dwight Langer.
"It may not all be green, but it will be economical and environmentally responsible," Langer said.
Meanwhile, the PUD is continuing preliminary work on the Freedom project, a second power plant proposed for The Dalles Dam's fishway.
Representatives of McMillen, LLC, the project's engineering firm, had a site visit March 10.
"It was a big group collecting information they need to get to the 30 percent engineering design milestone," Conger said. "That's the point where they can really engage the Corps of Engineers in further design."
The PUD is also engaged in work to develop their water right for the project and met in Yakima last week with the Washington Department of Ecology for that purpose. The application requires a nonrefundable $25,000 fee at the time the application is submitted for approval.
The utility is seeking a nonconsumptive water right, which means water is taken in, used and then returned to the river.
In light of that fact, Director Howard Gonser asked if the application is simply a formality, but PUD attorney Jim Foster advised him not to view it that way. Instead, he said it is an administrative process that allows people to object and is overseen by a regulatory body.
"It's one of the hurdles we have to get over to get to our ultimate goal of construction," Foster said. The water right permit for the first fishway generation plant was granted in 1985, Conger noted, but not perfected until 2010. Physically using the water right once the permit is issued — and proving that it is being used — is part of the process of perfecting the right.