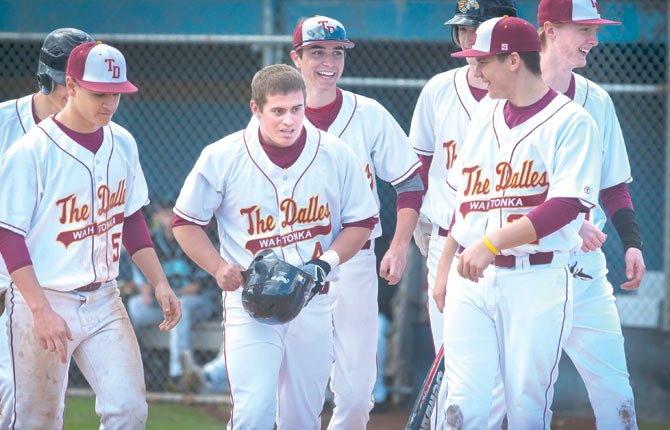 Whether they are down four runs, five runs or 10, The Dalles baseball players feel as though they are never out of a game.
Nolan McCall hit his second home run of the season and drove in five runs, and Clay Copper went 3 for 4 with three runs scored, the last run coming on a wild pitch in the bottom of the seventh inning.
 That sealed an 8-7 Tribe comeback win over 6A Century Thursday in a non-league baseball tilt at Quinton Street Ballpark.
"I think everybody on this team is a winner and we all want to win, so it doesn't matter where we are at, we are going to keep fighting until the last out," said Copper, who raised his batting average to .261 after Thursday.
Century held leads of 4-0 in the third frame and 7-5 in the fifth, but TD was able to chip away with single runs in the fifth, sixth and seventh innings.
In the seventh, Copper reached on a throwing error to lead things off. Zach Cantrell then advanced copper to second base on a sacrifice bunt.
With Payton Eaton at the dish, Copper chugged his way to third on a wild pitch.
On a 1-1 count, Century reliever Kayden Echols uncorked another wild pitch to the backstop and Copper motored home without a play to score the winning run.
Copper also scored on a squeeze play in the fifth after starting the rally with a triple.
With two outs in the bottom of the sixth frame, McCall drove in Gordy Harris, who walked earlier, with an RBI infield single to tie the score at 7-apiece.
Harris who made a running catch to cut down extra bases in the top of the sixth inning, had his hand on the defensive side of the ball in the seventh to keep the game tied.
After a line shot to right by Century's Jaylen Martes, Harris charged the ball and fired a bullet to Zachary Keimig at first base for the putout.
Echols then laced a grounder to the hole at shortstop, but Steven Bartells made the grab, threw to first and Keimig scooped up the low throw for the second out.
Cantrell retired the side on a strikeout to end the inning and give his team a chance for the final rally.
"It was big that we scored in every inning and that we were able to make the defensive plays when we needed to, especially at the end there," Keimig said. "We had that last good inning, and then we came out strong with the bats, got a runner on base and scored him. That is all we needed to do."
Cantrell tossed three innings of two-hit ball with two strikeouts and a walk for his first win of the season. "It was huge for Zach to come in and do what he did," Keimig said. "He threw strikes and gave the defense a chance to make plays. He kept them to minimal runs and the offense was able to do the job in the end."
The Dalles (5-2 overall) posted 10 hits in the game, as Copper had two doubles and a triple in four at-bats.
McCall put forth a 2 for 4 split with a run scored and five RBIs, for his team-leading 15 on the year.
The all-state third baseman is hitting .500 so far with a slugging percentage of .791.
Eaton talked about the leadership Copper, McCall and Bartells show on the field, the dugout and in the batter's box.
It is their actions that get this team believing they are never out of any game.
"They really started off the rallying points today and give us the energy to keep going and keep fighting," Eaton said. "They kept us in the game."
Colin Noonan chipped in two hits, and two stolen bases, Bartells went 2 for 3 with a run scored and Harris had a hit, a walk and scored twice.
In seven games, the Tribe has scored 65 runs and has a team average of .300.
They also have 26 walks, an on-base percentage of .393 and are 14 of 15 on stolen base attempts.
Friday's home game versus Madison was canceled due to inclement weather.
There may be a makeup game played Monday.
If there is no game, the Eagle Indians head to Hillsboro for a road matchup at 5 p.m. Wednesday.