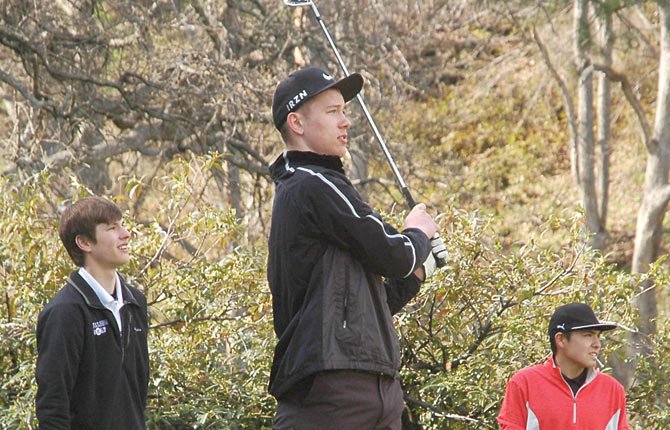 In evaluating his team's effort at The Dalles Invitational Tournament, TD High School boy's golf coach Kent Smith visualizes a significant improvement as the season progresses along.
Freshman Chase Snodgrass carded an 85, Coby Conlee added a 90 and the Eagle Indians amassed a team tally of 370 to place sixth amongst the 11-team field in varsity action last week in The Dalles.
It was not a bad start to the season for Snodgrass, who performed in his first tournament.
"Chase has played some Oregon Junior Golf in the summer time, which I am sure has helped in terms of the mental side of the game," said coach Smith. "He will continue to improve as well as the rest of the boys. I feel that we are headed in the right direction."
Sophomore Bailey Ortega finished the day with a 96, and senior Nick Glesener notched a 99 on the scorecard. Rounding out the top-5 Tribe participants was freshman, Mark Felderman (104), who also performed admirably in his first big test of his career.
Seaside's Sam Hinton picked up medalist honors on the day, as he shot a two-over par 73. Clackamas' Javier Singh placed second, six strokes back, with a 79.
Pendleton's Riley Hagerty and Seaside's Shane Fritter finished in a tie for third at 81, and Hillsboro standout Josh Farlow turned in an 83 for his fifth-place outcome.
Pendleton scored team honors with a 347, one shot better than Clackamas (348) and four strokes better than Seaside (351).
Hermiston (357), St. Helens (368) and The Dalles (370) capped the top-6 teams in the standings. Goldendale (389) was eighth and Hood river valley ended up 11th with a 516.
Although TD finished third amongst Columbia River Conference teams behind Pendleton and Hermiston, Smith realistically feels that his group can shave 20-25 strokes off their totals.
In order to make that jump, however, he wants to see the putting game sharpened up. He said there were too many three putts for his liking.
In addition, the coach is looking for more consistency from the fairway wood shots. Keeping them straight and eliminating the slices and hooks is important.
If those areas can be ironed out, than those hopes of chalking up a state berth cane be realized.
"It is not out of the realm of possibility," said Smith of those aspirations. "It gives us hope that we can compete with the rest of the teams in our conference. I am very confident that we will keep improving."
TD hits the courses again at noon on Tuesday, April 1 at Awbrey Glen Golf Course in Bend.