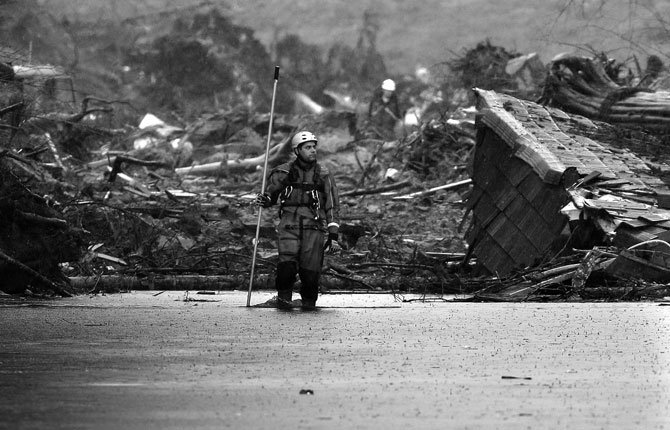 The sudden and massive mudslide that destroyed the village of Oso, Wash., is now being called the worst natural disaster in the state's history, where loss of life is concerned.
Ninety people were still missing Friday, almost seven days after the initial devastation.
Our sympathies go out to the families of the missing and dead.
This event is a reminder that the most dangerous and destructive force on earth is and may ever be Mother Nature.
The event is also a reminder of the relative good fortune our readers have seen in the face of nature's destruction, like the lightning-sparked wildfires that tore through the county last August and the raging flood that swept through the region in 1996.
We were truly blessed that no lives were lost in either of those events.
Wasco County has an Emergency Management System for a reason. While it may preach preparedness on a daily basis, some situations can't be entirely forestalled by preparation. They can only be managed in their aftermath.
It is the job of the Emergency Management System, administered by the sheriff's office, to assure that responding organizations and agencies coordinate activities to mitigate, prepare for, respond to and recover from emergencies or disasters so that they are as rapid and effective as possible.
At present, one special project under way is joint planning with Healthcare Preparedness Program Region 6 and Mid-Columbia Medical Center for an exercise of regional response to a hospital exercise.
Another new effort in progress is partnering with Northern Wasco County PUD for energy emergency planning.
Law enforcement, vulnerable population outreach and communication enhancement are all efforts also under way. And thanks to a $90,000 grant, Emergency Management will be able to provide first response agencies with communication equipment previously lacking.
Cities, service districts, volunteer agencies, schools and other organizations play a role. It also provides resources and support for direct citizen outreach and education.
Emergency Manager Kristy Beachamp is working with these various organizations to update the plans and get more resources in place to assure emergency response is robust. Training, drilling and updating response plans is part of the process to assure as much safety in the event of disaster as possible.
Citizens have their roles to play, too, and Emergency Management provides resources to help them starting with the basics of "Make a kit. Make a plan. Be informed."
One of the simplest steps citizens can take is to sign up for the county's emergency notification system.
It works with land line phones, mobile phones and email and provides notification to people of emergencies in their areas and what actions authorities are asking them to take.
During the Government Flats Fire Complex last August, the system was used to notify residents in the area of evacuation information, but the possible ways it might be used under emergency conditions are many.
Residents who haven't signed up can do so from the online link at the bottom of the Wasco County home page, www.co.wasco.or.us.
They can also take advantage of online resources available to help them learn how to expect and prepare for the unexpected.
The largest among those include www.fema.gov and www.redcross.org. Both sites have a great deal of information on how to prepare families, homes, businesses, and communities address the potential large-scale hazards that exist within and around them.
While we can't prepare for everything, precautions can help mitigate potential risks.