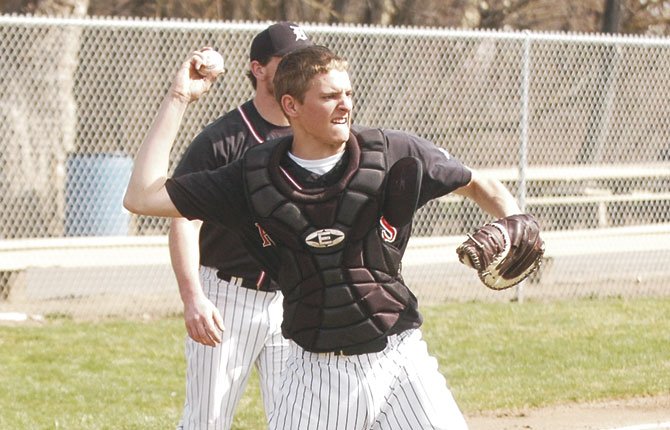 With a chance to cement itself as a top 2A contender, the No. 8-ranked Dufur Rangers were put to the fire with a matchup Friday against 6A South Eugene.
After an eight-inning thrill ride, the Rangers made believers out of a lot of people.
Connor Uhalde drove in Nathan Duling with the game-winning RBI infield single in the bottom of the eighth inning to cap a monumental comeback from as much as 7-1 to score an 11-10 victory Friday in second-day action at the Les Schwab Icebreaker in John Day.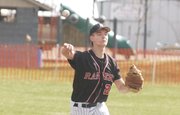 "We kept chipping away and chipping away until we put ourselves in position to win the game," said Dufur skipper C.S. Little. "There were a couple of times where we had a chance to get a win, but it took extra innings to actually nail it away. I am obviously proud of their effort. I think that extra year of maturity is starting to pan out a little bit."
South Eugene went scoreless in the top of the eighth, setting up the final fury with this slugfest knotted at 10.
Duling nearly ended the game with a walk-off home run, but his shot to left bounced off the wall for a leadoff double.
Nick Little then reached on an infield single to move runners on the corners for Uhalde.
On the first pitch he saw from the Axeman ace southpaw, Sam Menegat, Uhalde hit a hard smash off the first baseman's glove. He retrieved the ball and fired home, but Duling slid safely under the tag for the winning tally.
"Sure he is excited. Everybody is excited about the whole thing," said coach Little of Uhalde's heroics. "He came through and put the ball in play. What more can you ask for? It was a good team effort today."
After the Axemen had gone off for a furious start on Dufur ace Cole Parke for a 7-1 advantage, the senior right-hander settled in nicely from the third-through-sixth innings, on only 25 pitches.
The Rangers scored two runs in the third and added two more in the fourth to creep to within a 7-5 deficit.
In the sixth, Dufur staged a rally with the top of the order laying the framework.
With one out, Parke doubled and Bryson Caldwell followed with a walk. A groundout moved the runners into scoring position for Trever Tibbets.
The junior hammered a two-run triple to plate Parke and Caldwell to even the count at 7-apiece.
Josh Keyser then walked to put runners on the corners for Lane Turner, who chased home Tibbets with an RBI single.
Duling added another RBI single to drive in Keyser to give the Rangers a 9-7 lead.
That momentum boost did not last long however, as South Eugene scratched across three runs in the top of the seventh to take a 10-9 lead.
Down by one run in the home half of the seventh, Caldwell had a one out single, and Tibbets followed with an RBI double to the wall to tie the score at 10.
All told, the Rangers pounded out 19 hits off four South Eugene pitchers, seven going for extra bases.
Parke went 5 for 5 falling a triple short of the cycle, with a double, a home run, three singles, an RBI and four runs scored.
Tibbets picked up four hits and ended a home run shy of the cycle, but he drove in four runs and scored once.
Caldwell went 3 for 4 with four runs scored and an RBI, and Duling notched two hits and a run scored.
From the mound, Parke allowed nine hits and struck out four batters to pick up the win.
"They are a good hitting team. In the middle innings, he threw 24-25 pitches and that allowed him to go the distance," coach Little said of Parke. "We were getting to the point where we were going to have to take him out, and he did not want to go out, but thankfully our bats came through to get him the win."
Even though the Rangers are flying high at this point in the season with four wins and a top-10 ranking, coach Little is tempering his enthusiasm at this point in the season.
"It is great to beat a 6A squad, but in reality, it is just another game," the Ranger coach said. "We got to get ready for the next one. We can't afford to stand around and pat ourselves on the back. We got to move on and move forward. This isn't going to be the highlight of our season by any means."
Dufur (4-2 overall) played Grant Union Saturday.
After that, they head to Lyle, Wash. for a doubleheader at 3 p.m. Tuesday.