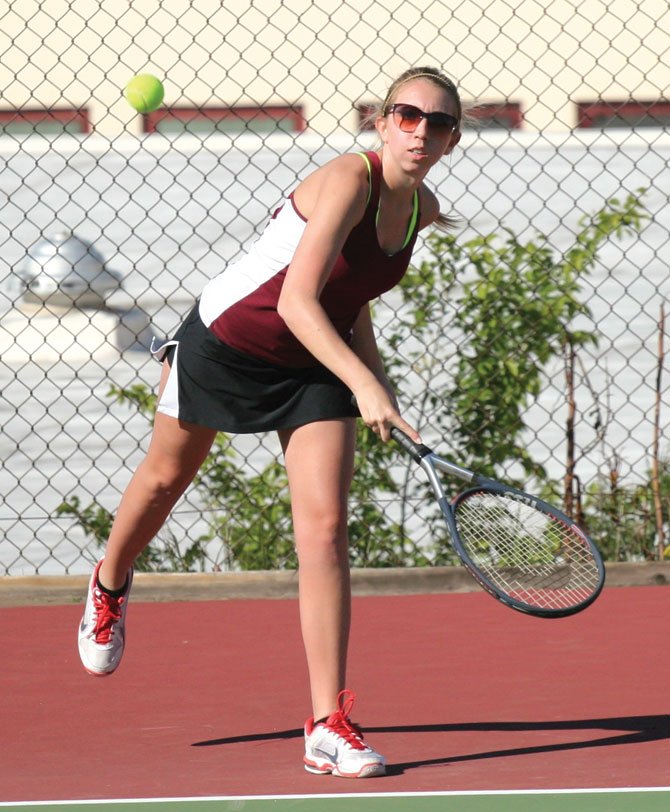 The Dalles girl's tennis team continues to blaze a new trail on the varsity tennis front by doubling its league win total so far in the 2014 campaign.
Wednesday, Robin Pashek, MJ Murillo and Leslie Luna-Lopez scored wins on the singles side and the doubles pairs split four matches in taking a 5-3 victory over cross-town rival Hood River Valley Wednesday in Hood River.
At the No. 1 spot, Robin Pashek was thrust into a crucial role and responded with a spirited effort against Hood River's Maddie Graham.
Pashek and Graham battled neck-and-neck with each not giving an inch.
The Tribe player came through with a 7-5 win in the opening set to take an early 1-0 lead. With a chance to pull off an upset, Pashek kept her edge to the point of racking up a 7-5 victory in the second set for the win.
"Robin came up with a gutsy win," Jones said. "She was down 2-5 (in the first game) and pretty discouraged, but she took a moment to regroup and came back with a vengeance winning five straight games to win the first set." Murillo had an easier time of things in her No. 3 match with Eva Kahn, as she pulled away with wins of 6-2 and 6-1.
Luna-Lopez followed Murillo's lead in her No. 4 singles showdown with a lopsided 6-2, 6-0 triumph over Martha Kohter.
"Murillo and Luna-Lopez never allowed their opponents to think they had a chance by coming up with dominant performances from start to finish," Jones said.
Earlier, the Tribe could have completed the four-match singles sweep in another tough match between TD's Kiana Pielli and Hood River's Olivia Newcomb.
Newcomb struck first with a 6-3 romp to take a 1-0 lead in the match, but Pielli jumped back in the second set with a 6-3 winner of her own to move the match into a decisive third set.
Things were interesting in the early portions of play, but Newcomb pulled through in the end by securing a 10-6 tally to give Hood River its lone single win.
On the doubles side of the court, Anna Miller and Johanna Wilson were matched up for the first time in a No. 1 match against HRV's Elle Webb and Naomi Greenwold.
Miller and Wilson staked control of this match and worked counts of 6-2 and 6-1 for the two-set whitewash.
Brittany Watkins and Rebekah Kohltfarber added to winning margin at No. 3 doubles opposite Ann Evan and Tia Semmes, rapping out scores of 6-4 and 6-4 for the close winner.
"Kohltfarber and Watkins continued their consistent play at No. 3 doubles," Jones said. "These two have really been solid all season and have provided the depth we needed."
Hood River picked up wins at No. 2 and No. 4 doubles, as Miranda Starr and Camaryn Chanbos along with Vanessa Olivas and Ellie Trujillo scored wins.
Although Pielli and the two doubles teams lost their matches, Jones said there is much to be taken away from every serve, volley and passing shot.
"I know the girls were disappointed, but I think there were some unique learning opportunities that these girls will never forget," Jones said. "Participating in sports is not always about the final score, but the lessons learned along the way."

The Eagle Indians head to Bend starting at 9 a.m. Friday for the first day of tournament play.