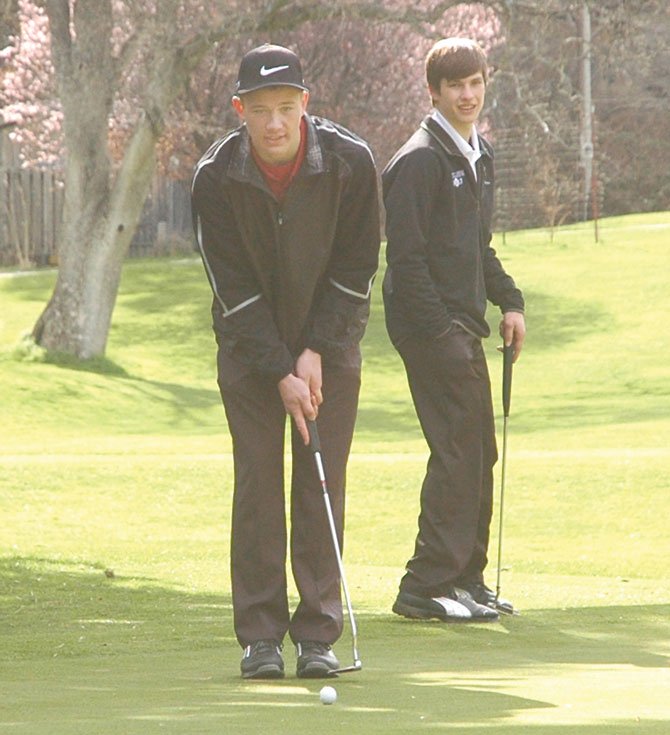 Telles gets second in Bend
With a chance to test her skills against highly rated golfers in two-time state champion, out of Summit, Madison Ordione, and Bend's Holly Froelich, The Dalles freshman Iliana Telles showed that she belongs Monday with an 82 to preserve a second-place outcome at the Bend Invitational girl's golf tournament at Bend Country Club.
"She got to understand the level of concentration and execution it takes to become a state champion," said head coach Dan Telles. "Other than a couple of bad holes, taking two triple bogeys, she held her own."
Ordione claimed medalist recognition with a 77, and after Iliana Telles, Bend's Madeline Rice picked up third place, eight strokes back, with an 85.
The Summit trio of Sarah Heinly, Alyssa Kerry and Megan Mitchell ended up in a tie for fourth place, with Heinly taking the honors due to scorecards.
Due to testing activities, The Dalles had just Iliana Telles and Jennifer Bonham penciled in for play.
Bonham enjoyed her best day of the season with a personal-record of 108.
"She continues to cut some strokes off her score every tournament and improves from week-to-week," coach Telles said. "She is showing the desire to get better and compete at a higher level."
Summit grabbed the team crown with a 335, finishing 36 strokes better than Bend (371).
Mountain View (411), Crook County (417) and Ridgeview (441) made up the rest of the standings.
TD heads to Emerald City for a state preview event at noon on Monday.
As the events come and go, The Dalles golfer Nick Glesener continues to drop his scores.
Those numbers took another major dip Monday in the 11-team Seaside Invitational at Astoria Country Club.
Glesener finished with a season-low 84 to notch eighth-place to lead the Eagle Indians to a 349 for third place in the team standings.
"His game is on the climb," said TD head coach Kent Smith. "He is getting better and better with each match that he has played in. I am very pleased with that. He is getting to level he was at last year."
Chase Snodgrass had one of his better performances in Seaside with an 87, and junior teammate Coby Conlee came through with a valiant performance with his 88.
Bailey Ortega remains steady in his output and he turned in a scorecard reading 90. Freshman standout, Mark Felderman, added to the consistent team play with a 92 to give the Tribe their 349.
Valley Catholic picked up a 338 to preserve first place on the team front, beating host Seaside (340) by two strokes.
The Dalles (349), North Valley (362), Banks (363), Scappoose (386), Phoenix (392), Molalla (392), Tillamook (395), Astoria (414) and Taft (441) rounded out the team counts.
Valley Catholic's Ryan Schmidlin rattled off medalist marks with his three-over par 75. Ross Phillipi, of Banks, placed second and brother Wiley Phillipi totaled an 80 to net third place.
Sam Hinton, of Seaside, had an 81, and Seaside's Trenton Myer (82) and Valley Catholic's Nick Tranquil (82) made up the top-5 on the individual side.
Smith said he was still happy with the scores and the progression, but added that some parts of the game still need improvement.
In Monday's event, he said there were too many three putts, so his players are losing a few strokes each in a round.
That is where practice time comes into play.
"We are doing better, but we still have issues with our thought processes when we get close to the green with our short chips and putting," the coach said. "We are going to have to spend a lot more time to work on this."
After today, the Eagle Indians participate in a state preview at Quail Valley at 10 a.m. Tuesday.