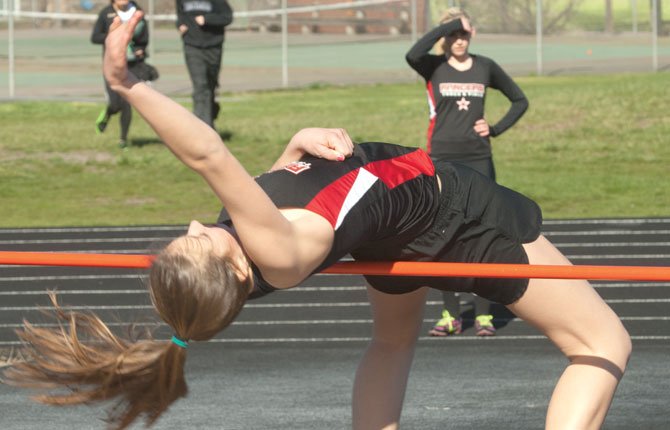 Former state placers Taylor Darden and Austin Olson have been getting all the headlines this season, but Dufur track standouts Travis Lucas, Jake Little, Louis Smith and Kirsten Sorensen have been showing steady progress with personal records and several top-5 outputs added to their totals.
While squaring off against 5A programs Hood River and The Dalles, the Rangers amassed 14 top-5 finishes, including three combined wins by Darden and Little in a three-team dual at Henderson Field in Hood River.
In her two top events, shotput and discus, Darden is ranked highly in the 1A classification and she strutted her stuff with a pair of gold medals.
Coming off setting her personal record mark of 37-feet-1 inch Saturday at the Bowerman Invitational in Condon, Darden scored top honors with a throw of 33-1 in the shotput for her fifth win of the spring season.
In wrapping up first place in the discus event, Darden set a personal record with a distance of 115-3 to grab her fourth victory.
Sorensen ended up second in the high jump and tacked on fourth place in the triple jump.
Sorensen matched her personal record for the third week in a row, leaping a height of 4-4 to net a silver medal.
In the triple jump, the freshman fell just two shy of her season best at 26-7 for fourth place, less than three inches from the first place winner, Alyssa Valles (29-4) of The Dalles.
Smith rattled off three top-5 marks in the 400-meters, 1,500-meters and 300-meter hurdles.
Smith re-set her personal best by nearly seven seconds in the 1,500 with a final rally of 6:04.08.
Smith scored her second-best time in the 300 hurdles in 57.46 to secure fourth place in the standings.
On the boy's side, Little keeps chugging along and appears to be hitting a high note to his season.
The junior racked his third consecutive win in the javelin with a distance of 145-0. In just his second try in the triple jump, Little set a personal record with a distance of 35-10.5 for third place.
Olson also took a dip in the personal record pool, as he moved to his personal best by more than four-feet in the discus event with a toss of 118-7 to grab third place.
The Ranger senior added his sixth top-4 finish of the 2014 campaign with a throw of 41-7.5 for fourth in the shotput.
Lucas, a freshman, set his highest marks of the year in the 400 and the 1,500, picking up a time of 59.67 for fourth place in the 400-meter run. At 1,500, he placed fifth in 5:12.26, a record by better than 10 seconds.
With the numbers in place to formulate a relay team, Lucas matched up with Ethan Wetherbee, Little and Tyler Thenell for third place in the 4x400-meter relay run.
The quartet set a new PR with a time of 4:11.79 to set a new record by more than 21 seconds.
The Ranger group, along with Sherman and South Wasco County, will look to add to their firsts and personal-record counts in a track and field event slated for 10 a.m. Saturday at the Arlington Invitational.