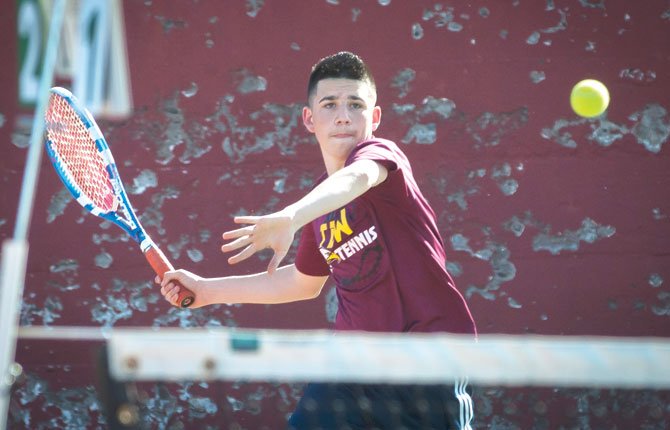 While The Dalles tennis team has gone through its fair share of struggles through the spring schedule, the two main constants on the court have been Cole McDowell and Christian Munoz.
The Tribe tandem each tallied singles victories, but the rest of the group could not get on the winning track in a 6-2 league loss Wednesday afternoon at home to Hood River Valley.
"Cole has been outstanding for us at No. 2 and Christian had an exceptional game," said TD head coach Andrew Hughes. "They have really been pulling the load for us all season."
McDowell had his chance to keep his winning streak going in a No. 2 singles match against Cooper Holzman, and he had to work overtime in order for a victory run.
The Eagle Indian standout got the early lead with a 6-4 winner over Holzman, but his Hood River opponent battled back with a lopsided 6-1 decision to set things up for a third-set match breaker.
In the final set, McDowell regained his momentum using his patented service skills to overwhelm Holzman to the point of a 10-4 outcome to earn the win.
"Cole won this match on his huge serve," said Hughes. "It has been indicative of how well he has been playing. He has great serving and now we are seeing him coming behind those serves with good net play."
Just like McDowell, Munoz has been riding a recent hot trend in his last few No. 3 matches and he hit the court versus a stout Omar Cornejo.
Munoz never left any doubt in this tussle, as he dominated Cornejo by scores of 6-1 and 6-1 for the impressive straight sets winner.
"Christian has been really consistent," Hughes added. "He uses his good speed to an advantage. I think he is getting better and better every time he steps on the court."
Griffin Martin lost to Scottie Ziegner in straight sets by tallies of 6-0, 6-0 in their No. 1 singles match.
At No. 4, Cody McClintock had his opportunity to shine on the singles slate, and went through some action in a 6-2, 6-2 loss to Hood River's Patrick Hunann.
The Eagles pulled off a sweep in doubles play, led at No. 1 by the team of Billy Edwards and Vic Garibo, who defeated William Coy and Ethan Semlor by scores of 6-3 and 6-3.
Also for TD, Daniel Spurr and Daniel Santillan went to work in a No. 2 showdown versus Will Ferrick and Marty Sova.
Once the final point went in the books, it was Ferrick and Sova taking a two-set win by margins of 6-4 and 6-1.
Luis Diaz and Jesus Barajas stepped on the court for No. 3 doubles play versus Brandon Campos and Miguel De La Rosa, but the Tribe duo could not sustain any momentum in a 6-0, 6-4 setback.
Hood River's Cole Shepherd and Nathan McDowell completed the doubles whitewash at No. 4 with a 6-1, 6-3 winner over TD's Caleb Turner and Daniel Hughes.
"We still have some inexperience in our lower numbers, but we will keep practicing and looking for improvement," Hughes said.
The Dalles will get some court time this weekend for the two-day tournament at Summit High School.