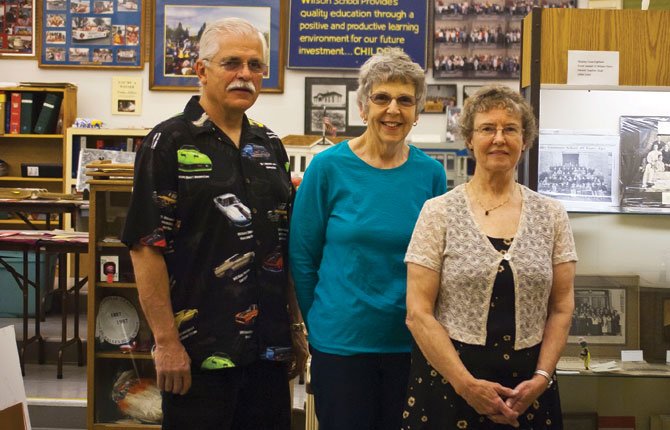 School districts 9 and 12 may have closed their doors in 2004, but their history remains alive in the hands of Rymmel Lovell, curator of The Dalles School Districts' Archive Museum, which celebrates its 10th anniversary on May 3.
In honor of both the old districts and the new, the Archive Museum will be open on Saturday from 2 to 5 p.m. in the Wahtonka building directly following the Pioneer luncheon.
After working as a teacher in District 12 for 30 years, Lovell said that following the 2004 closing ceremony for the old districts, many items representing the schools' long histories were gathered and later became part of the museum's current inventory.
"I just started putting notebooks and albums together and people began leaving memorabilia to the museum once they'd passed away, staff started donating items of historical significance as they were found in different schools and it just continued on from there," Lovell said.
When asked what kind of experience she had when first embarking on the project 10 years ago, Lovell said, "Absolutely none. I'd written a history book on Wilson School, which was written with two other teachers and published when the school turned 100 years old. The title was, 'Saving the Past for the Future,' so at least I can say I've always been interested in history."
The museum sees about 280 visitors each year or more between May (Pioneer Weekend) and the end of September, according to Lovell, and class organizers are always welcome to borrow items from the museum to feature at their reunions.
The museum's collection features items such as yearbooks dating all the way back to 1911, Booster Girls memorabilia from 1924-1974, letterman's jackets, class rings, trophies, uniforms from sports and music as well as countless photos, Lovell said.
Among her favorite archives, she lists a The Dalles High scarf from the 1940s and the recently passed away Ed Edmo's The Dalles High School Indians' headdress.
One of the chief difficulties Lovell said she and other museum volunteers often run into with yearbooks. Earlier yearbooks include lots of written documentation on school activities and community functions, making it easy to identify people and figure out what's happening in a photo. More recent books mostly rely on photos with little written information to support them.
Such sparse documentation can make it difficult to do solid research, Lovell said.
"The museum is run on an entirely volunteer basis, and all of my archiving, album making and trophy refurbishing is made possible by donations. The two volunteers besides myself are district alumni, but even they have their limits when it comes to identifying certain people and places."
The old adage about a picture being worth a thousand words, she agreed, is not always true.

"People often bring us huge boxes full of interesting things, but without a whole lot of explanation attached to it," Lovell said. "We have the memorabilia, we just don't always have the background. Gaining more support to conduct research and find out more about that history—particularly where it concerns Chenowith and District 9—would be priceless, so we're always looking for alumni, staff, or community members who can pick out faces and tie names and events to them."
"The celebration in 2004 was about commemorating the 150-year history of education in The Dalles, and now that we're 10 years past that with the new school district—it's exactly what we're aiming to celebrate now," Lovell said.
The varied history on display in the museum is meant to be "well taken care of and shared" with the greater community, she said. "And that's exactly what I want to do and plan to keep on doing for a long, long time."
The Archive Museum is located at the end of the hall in the Wahtonka building at 3601 W. 10th St., and the anniversary celebration on May 3 will extend beyond the museum to Wahtonka's multi-purpose room, where District 21 achievements from the last decade will also be showcased. Refreshments will be served from 2 to 5 p.m. while the museum is open.
Regular museum hours are from 10 a.m. to 3 p.m. every Saturday, May through September, and community members are encouraged to share memories involving the districts by submitting information to tlovell@netcnct.net.
For more information about the event or how to get involved at the Archive Museum, contact Lovell at 541-296-6546.