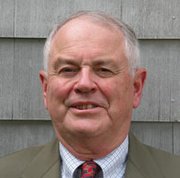 Charles "Frank" Vulliet, Sr., 72, felt called to run for the Second Congressional seat out of belief that issues at the federal level are so out of control that it is a prime time to replace incumbent Greg Walden.
"I owe it to the country to do what I can to keep Walden from going back another time," he said.
Vulliet, a retired trial lawyer and Navy veteran, who resides in Sunriver, will face off with fellow Democrats Aelea Christofferson, 61, of Bend and Barney Spera, 83, of Ashland in the May 20 primary election. The winner of that contest will go up against Walden or his Republican challenger Dennis Linthicum, 58, of Beatty.
Vulliet wants to use his experience in preparing complex cases and knowledge of the constitution to "fix" Congress. He said procedural rules are now being used routinely to block or delay legislation and that is not the governance envisioned by the founding fathers. "I want to allow a substantial minority — 10 to 20 percent — in either chamber to bring legislation to the floor for a vote on reasonable notice," he said.

Vulliet also thinks bills should be restricted to a single legislative subject so people will know how an elected official voted. He said that change would also eliminate "earmarks" tucked into legislation to benefit special interest groups.
He said all elections should be publically financed and there should be more restrictions on donations to candidates.
High on his to-do list, said Vulliet, is dealing with the nation's endless demands for water, not only for consumption, but also for irrigating crops, manufacturing and preserving the ecosystem. He plans to study up on the issues and get ready to craft sound policy that reduces conflicts.
He also believes the lumber industry in Oregon and across the nation should be restored in a way that protects the environment and wildlife.
Third on his to-do list is making sure capital is invested into infrastructure repairs and upgrades that will accommodate commerce and pave the way for greater economic growth.
Last but not least, he wants to see more focus put on reducing the federal government's involvement in education and giving states' more control of these programs.
Conversely, he thinks states need to be out of the health care business so the federal model can work at greater efficiency, with less bureaucratic duplication and redundancy.
He believes the Patient Protection and Affordable Care Act, also known as Obamacare, makes too many concessions to the insurance industry, which is still generating enormous profits.
"I'm critical of the act because it really wasn't directed toward reducing medical costs," said Vulliet, who favors some type of nationalized health care system.
He does not agree with GOP leaders that health care costs cannot go down without reforming the litigation system so malpractice rates for physicians are not so high. In fact, he said these payments make up only a small part of the medical budget, and the profit margins for supplies and prescription drugs are responsible for driving up costs.
"I did civil litigation for 30 years and I can tell you that injured people aren't getting richer," he said.
Not only does Vulliet have plans for changes on the domestic front, he would like to see tensions de-escalate in the Middle East by getting tough on Israel.
He said unless a Palestinian state is granted, Arab nations are not going to live in peace with Israel, which refuses to end one of the region's most intractable conflicts.
"I see a big problem with Israel trying to drag us into conflict," he said. "I think we don't have more peace in the Middle East until we say, 'Knock it off.'"
Vulliet said he was a Republican until 1982, when he saw where the Reagan Administration was taking the country and decided it was the wrong direction. He believes the same dynamics are playing out now and it is time for him to take a stand and get politically active.
He sees it as a plus that he has never before held a public office. He said it is time to send "yes men" like Walden, who has held his position for 16 years, home and get independent thinkers into Congress that bring fresh ideas.