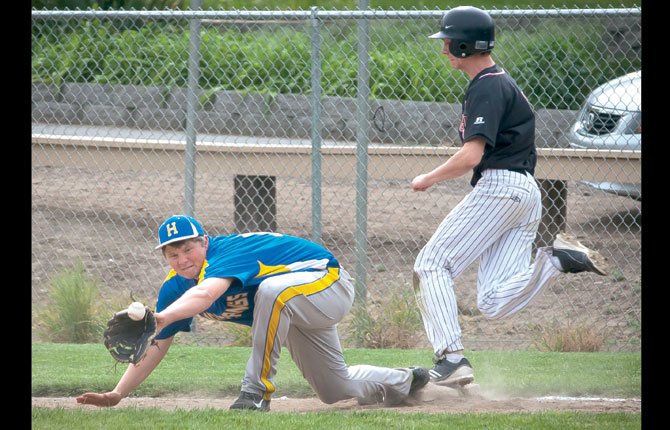 Dufur's ferocious scoring offense, was at it again Friday, using home runs, extra base hits, steals and everything else to pound Heppner into submission in a two-game sweep in a 2A Blue Mountain Conference baseball battle at Dufur City Park.
Cole Parke reached base 10 times in two games and reeled off eight hits, including two home runs and nine RBIs to pace the Rangers for wins of 11-0 and 17-11.
"I was real happy to get two wins," said Dufur coach C.S. Little.
In the nightcap, the No. 2 Rangers fell behind 6-5 and 11-5 through four innings of play, but crept closer with four runs in the fifth to make it 11-9 entering the top of the sixth.
Parke hammered a grand slam to give Dufur a 13-11 lead and for good measure, junior standout Trever Tibbets rifled a three-run bomb over the fence to give his squad a healthy 16-11 advantage.
The Rangers would add one more run in the seventh, and ace reliever Josh Keyser retired the side in order for his third win of the campaign in the home half of the seventh to cement the two-game sweep.
Keyser lasted 3 1/3 innings and allowed just one hit. He struck out three and walked two. On the season, Keyser has allowed one earned run in 18 1/3 innings for a microscopic earned run average of 0.29.
Parke had four hits, walked twice, scored four times and drove in six, and Tibbets went 3 for 5 with three RBIs and two runs.
Bryson Caldwell rattled off five hits in six at-bats, scored three runs and drove in three more.
Jake Kortge notched a 3 for 6 day while driving in four runs and Keyser had three hits to account for the Rangers' 23-hit display.
"Our bats healed all wounds again today," coach Little said. "I liked what I saw from them."
Before the nail biting and late-inning rallies, the Rangers handled their business in the opening game against the Mustangs with an 11-0 mercy-ruled triumph.
Tibbets had no issues at all with a potent Heppner offense, as he tossed six innings of two-hit ball with nine strikeouts and two walks.
On three occasions, the Mustangs advanced runners as far as third base, but stranded seven, as they could not score any runs against the junior right hander.
Dufur used the first three innings to do the bulk of its offensive damage, racking up two runs in the first frame, one in the second and five in the third.
Parke and Tibbets combined to go 7 for 8 with seven runs, six RBIs, three doubles and three home runs.
Parke rifled two of the dingers and Tibbets picked up the other long ball.
Keyser and Nathan Duling added two hits apiece for the Rangers, who had 15 hits.
With the wins, Dufur (17-2 overall, 9-0 league) inched closer to No. 1 Knappa in the RPI rankings, going to 690.60.
The Loggers (20-1) currently have a reading of 698.44.
"We just have to keep playing our game and the rest will take care of itself," Little added. "There is still a long ways to go yet, but if we can keep playing like we are, we will compete with any team out there."
Dufur travels to 3A Riverside for a non-league matchup at 4 p.m. Tuesday.
After that, they head to Condon for a double-dip versus the Knights at 2 p.m. Friday.