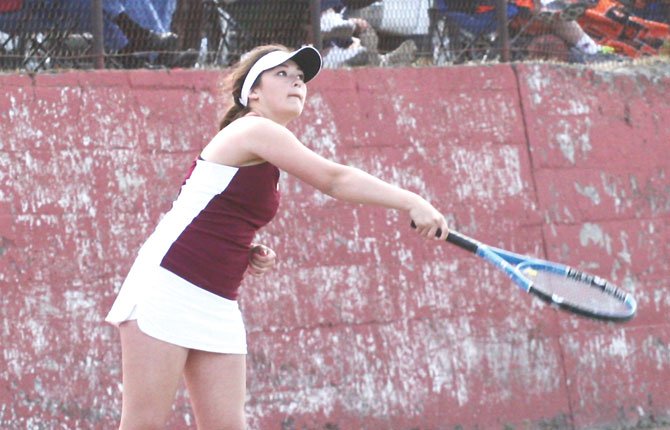 The Dalles girl's tennis got off to a rousing start Friday in the first day of play at Oregon Dual Match Championships at Bend High School with a 5-3 win over Mountain View.
On the day, the Eagle Indians received solid contributions from Robin Pashek, Kiana Pielli and MJ Murillo for three singles wins to spearhead the charge.
TD coach Debby Jones was pleased with this effort, especially since it has been several years since the Tribe enjoyed the fruits of victory over the Lady Cougars.
"Some of the top teams in the state are here and we knew we would have our work cut out for us," she said. "The girls decided that they would be the group to turn things around with an inspiring win."
Pashek kicked things off with a lopsided No. 1 win over Brandy Graham, taking the two sets by margins of 6-3 and 6-0.
Pielli kept things moving in the second set, using an opening set 6-3 decision and following that up with a 6-1 tally to cruise past Missy Burke for another sweep.
"(It was a) great all-around performance by Robin and Kiana in their dominant straight-set wins at No. 1 and No. 2 singles," Jones said.
Murillo had to work overtime to grab her No. 3 singles win, as she started out riding a 6-4 win in the opener to take a 1-0 advantage.
Mountain View's Charlotte Shaney bounced back with a 6-0 win in the second set to move this duel into a third-set match breaker.
Murillo staked control early in the finale and motored home for a 10-3 score to clinch things.
It was Murillo's win that ultimately secured the match win for the Tribe.
On the doubles side, Johanna Wilson and Anna Miller could not be contained in their No. 1 matchup versus Cole and Johnson.
The Eagle Indian tandem inched ahead in the first set by a 6-4 score and completed the two-set win with a 6-3 tally.
Abby Minnick and Emma Ell-Smith rode a surge of their own in their No. 2 tussle versus Culbertson and Woolhiser, taking this match in straight sets by marks of 6-4 and 6-2.
"The doubles combos of Wilson/Miller and Minnick/Ell-Smith joined the party and set the stage for us needing to win at least one more match to capture the team win," Jones said.
The Eagle Indians nearly had another win come from the rackets of Rebekah Kohltfarber and Brittany Watkins, as their match went to three grueling sets.
Mountain View won the opener by a 6-4 score, but Kohltfarber and Watkins jumped off the deck for a 7-5 triumph to force a decisive third game.
In the final frame, both teams fought and scratched and clawed, not wanting to give an inch, but the Cougar duo of Weber and Miller dropped the last two points to claim a 10-8 triumph.
TD's Julissa Marquez lost her No. 4 singles match by counts of 6-1 and 6-0, and the No. 4 team of Cassie Vazquez and Ellie Trujillo suffered a 6-1, 6-1 loss.
"This was a huge win for us," Jones said. "Looking down the bank of courts, I was pretty pumped to see that we had won the first set on all four courts. The news kept getting better with those first triumphs turning into match wins. I was really pleased with the efforts of all 12 girls."
With the win, the Tribe moved ahead into the winner's bracket with a tough showdown versus Corvallis.
Unfortunately, TD could not sustain its momentum, as the Lady Spartans came through with an 8-0 win, with all the matches decided in straight sets.
Pielli had the closest match in the singles division in a 6-4, 6-1 loss to Regan Orman.
Wilson and Miller had a close match at No. 1 doubles, losing by scores of 6-3 and 6-2, and at No. 2, Minnick and Ell-Smith were upended, 6-2 and 6-4.
Even in defeat, Jones looked at the bright side of matters.
"I really believe our best tennis was produced in the loss," she said. "This was a great learning experience and I hope motivation for our young team. Corvallis has some definite state contenders and the opportunity to play against this level of competition was a privilege."
The Dalles finished tournament action Saturday.
At 4 p.m. Wednesday, the Eagle Indians play host to Pendleton for their season finale at 4 p.m.