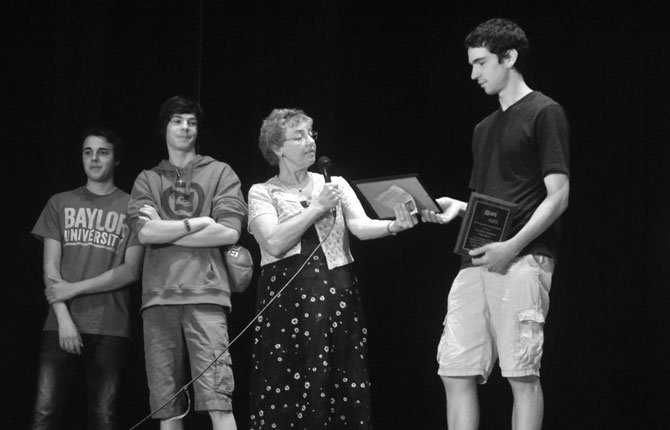 Students of The Dalles High School gathered in the auditorium on May 1 to celebrate the many varied cultural identities that populate the school's busy hallways.
The assembly opened with a demonstration of traditional Mexican rodeo rope tricks, courtesy of accomplished charro Carmelo Gamez, father of student ASB officer Marta Gamez.

Following Gamez' performance, Rymmel Lovell, AFS Chapter Chair of The Dalles and Columbia Gorge, formally presented the high school with a 2014 AFS Top School award for its continued involvement in the program and dedication to fostering intercultural experiences.
AFS is an international exchange program that gives high school students from 90 different countries the opportunity to attend foreign educational institutions around the world.
"This award is in recognition of The Dalles High School's active promotion of global citizenship through intercultural learning," Lovell said. "And this makes us one of 79 high schools across the U.S. to receive the award, so it's pretty exciting."
Overall, the high school has hosted 141 international students and sent 80 of its own abroad to study in different countries.
Junior Anna Miller spent a portion of last summer studying in Spain through the AFS exchange program, and several other students from the local area are currently studying in a foreign country or are planning to within the next year, according to Lovell.
Three international students currently attending The Dalles High School presented alongside their fellow area AFS exchange students in a series of presentations focused on their home countries.
Xavier Michel talked to students about various educational differences between his native Switzerland and the United States.
He, for example, speaks several languages, including French, English and a bit of German. In Switzerland, being multi-lingual, he said, is fairly common.
Included in each students' presentation on his or her home country were descriptions of food, holidays, customs and even examples of a typical school day.
Botond (Boti) Balogh of Hungary humorously pointed out that the phonetic English joke, "I was Hungary, then I ate Turkey and now I have Greece on my shirt," wasn't at all true in his own native language, drawing gales of laughter from the crowd.
Rocco Cozza, on exchange from Italy, said in his country there was no need for places like Pizza Hut or Olive Garden.
"If you want a pizza in Italy, you make it yourself at home," he laughed. "There is no other way."
While things such as favorite foods and the language you speak at home might not be universal, students agreed that having the opportunity to share these differences was very worthwhile.
"It's important to note," Lovell said after presenting the top school award, "That we cannot facilitate this kind of intercultural communication between our students without host families."
Several international students, she said, have already expressed interest in attending The Dalles High School next year, but no potential host families are currently in place.
All of The Dalles' current AFS exchange students will return home in June, Lovell said, while new ones hope to arrive in August.
"We really want to be sure that this happens for those kids next year," she said. "We want to give everyone an equal opportunity and make sure we all have the chance to learn from one another."
To learn more about the program or how to become a host, visit www.afsusa.org or email tlovell@netcnct.net for more information.