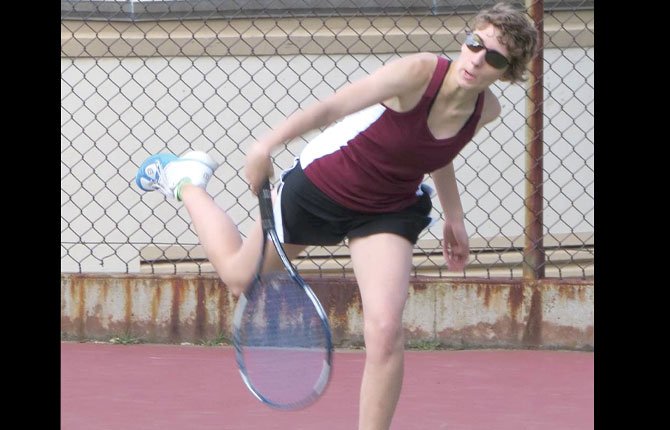 After splitting a pair of matches Friday versus Mountain View and Corvallis, The Dalles girl's tennis team notched a pair of losses to Bend and Ridgeview Saturday on the final day of varsity play at the Oregon Dual Match Championships at Bend High School.
All four singles teams came up on the short end of the scoreboard in the opener versus Bend, but the doubles teams of Abby Minnick and Emma Ell-Smith, as well as Rebekah Kohltfarber and Brittany Watkins came up with the two wins at second and third doubles.

Minnick and Ell-Smith lost the first set, 6-1, but they evened things at 1-all after a 6-3 score to force a third set match breaker.
The Tribe duo fought hard until the very end against the Bend tandem of Morris and Beith, and rattled off the last two points to secure a 10-8 decision.
At No. 3, Kohltfarber and Watkins served out for a two-set win, taking the opening game, 7-6.
Up 1-0 and with a chance for the sweep, the TD duo followed through with a 6-4 outcome.
"Minnick and Ell-smith did a really quick turnaround after being blown away in the first set," said TD head coach Debby Jones. "They could have been discouraged and phoned it in, but instead improved their own game and pulled out the win."
Wrapping up the doubles classification, Anna Miller and Johanna Wilson lost their No. 1 match by tallies of 6-2 and 6-4.
At No. 4 doubles, Ellie Trujillo and Cassie Vazquez lost to the Bend team of Raiter and Ladkin, 6-2, 6-1.
The singles lost all four matches and had just eight set points along the way.
Robin Pashek lost 6-0, 6-0, Kiana Pielli dropped her match in two by margins of 6-1 and 6-4 and MJ Murillo could not sustain an attack in a 6-0, 6-2 loss.
Rounding out the singles slate, Bend's Sadie Hamden tallied her team's sweep by final marks of 6-0, 6-1.
"Bend has been one of the schools that have dominated us the past few years and we still have a ways to go to catch up, but I was pleased with the efforts," Jones said.
In their final match of tournament play, the Eagle Indians lost 7-1 to Ridgeview, but were a few bounces away from walking with a match tie.
What gave Jones some reasons for optimism is the fact that her varsity team picked up 49 games compared to 20 the first time the teams squared off.
Miller and Wilson cruised to a lopsided win at No. 1 doubles, Murillo put out a solid effort in a three-set loss and the doubles group of Trujillo and Vazquez battled to three sets in their No. 4 setback.
Miller and Wilson hit the court against Ridgeview's Carr and Goodwin for a pivotal singles match, and were able to post a win by scores of 6-4 and 6-4.
Murillo won the opening set against Makenna Jadison 6-4, but the Ridgeview player rebounded with a 6-0 tally for a third set.
Jadison was notched the winner by a 10-7 score.
Ridgeview's Chavez and Stevens went to work at No. 4 doubles to sneak out with a 7-5 winner to stake control. Trujillo and Vazquez evened things up by rattling off a 6-4 rally to send the tussle to a decisive third set.
The Ridgeview tandem dropped the win by a 10-4 margin for the triumph.
Pashek lost her No. 1 singles match to Rhian Sage in another three-set marathon, even after falling behind early with a 6-3 loss. She battled back in contention for a 6-3 output to send this showdown to another third game.
Sage used her serve and net game to her advantage and bounced in a 10-5 winner for the win.
Marquez lost her No. 4 singles match 6-4, 6-4, and Minnick and Ell-Smith came out on the wrong end of a 6-1, 6-2 match versus King and Rongar.
Kohltfarber and Watkins rounded out the day of tennis play in a tough loss to Hanks and Doyal for tallies of 6-1 and 6-2.
"Again it was a loss, but all season we have been concentrating on improvement as opposed to just wins and losses," Jones said. "I was really looking forward to the rematch to have a solid benchmark to compare to. We were nine points away from splitting with a team that dominated us just six weeks ago."
TD hosts Hermiston at 4 p.m. Wednesday.