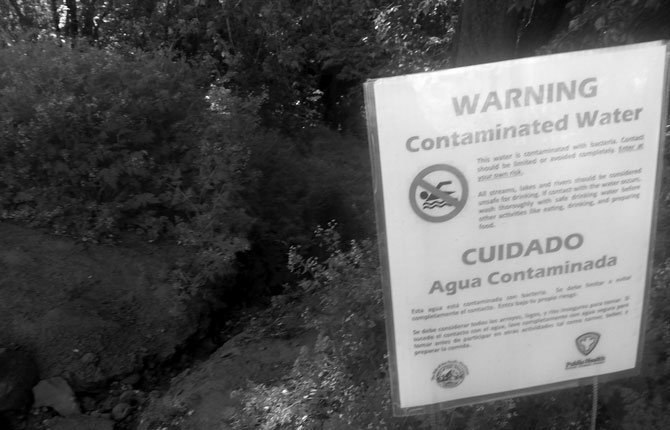 The Dalles City Council and The Dalles public works department both deserve credit for the work they have done in trying to rectify issues related to the "mystery pipe" feeding E. coli-riddled water into Mill Creek.
All in all, public works employees especially have done yeomen work to try to get the problem solved, ignoring jurisdiction issues to try to solve the problem.
Unfortunately, where the tainted water is coming from remains a mystery. As such, it is that much more important that the stream running through the heart of downtown past a major recreation facility be posted at its various access points so people know the risk.
Up and down its length, children play in Mill Creek.
Only one of hundreds of strains of E. coli is known to produce a powerful toxin and severe illness. Most illness results from contaminated food, but water-borne E. coli has also caused illness. So the risks of illness from contamination may be relatively low.
But the levels of contamination are many times higher than what health authorities consider "acceptable risk" and that is a reason for strong concern and decisive action.
It is particularly important given that higher concentrations of E. coli during the summer when stream flow lessens will coincide with the desires of local children to cool off — especially with the community pool out of commission for construction this summer.
Local citizens might have preferred that one of the agencies involved take quick action to notify the public about this potential health risk. It has been over a year since a local watershed group identified the problem, and more than a month since the Chronicle published a story spotlighting the issue for public awareness.
We are fortunate that one angry citizen took the time to visit the city council meeting and demand that action be taken. Who knows whether the council would have taken action, or even discussed the matter, had he not been present?
City workers continue to try, so far without success, to track the source of the problem but success has eluded them. And the pipe's high water pressure means capping it isn't an option.
Though the pipe remains a mystery, one thing has become crystal clear: A gaping hole exists in the response mechanism for events such as this one.
The snarl of jurisdictional bureaucracy desperately needs to be untangled so the next time a similar issue emerges it won't be passed around like a hot potato among declarations of "Not me!"
A click the "Environmental Safety" tab on the Oregon.gov website directs the browser to the Oregon Health Authority website where subtopics of "Environmental Exposures," "Hazardous Sites," "Hazardous Spills" and "Toxic Substances within Our Environment" are among the sub-topics.
Given those subjects, it's surprising there was a crack for this problem to fall through. It seems clear that the Oregon Health Authority should have rapidly taken jurisdiction.
However, we're about 130 miles from Salem, so the local authorities will need to shout loudly and quickly to get action, no matter who is responsible.
Clarification According to The Dalles City Councilor Dan Spatz, the council enacted a moratorium, a legally authorized delay period, related to medical marijuana dispensaries, not a ban. The council directed staff to develop regulations related to dispensaries during that time. Spatz said it could be rescinded at any time.