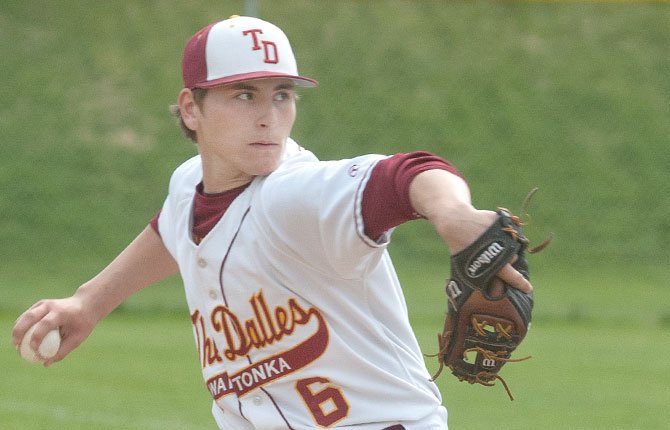 Even though The Dalles managed just one hit in a two-game sweep loss to Hood River Valley, they were a few hits away from pulling off a split Saturday in Columbia River Conference baseball action in Hood River.
TD lost the opening game by a 4-0 score and were no-hit in the process with 11 strikeouts and two walks.
Only Gordy Harris and Payton Eaton were able to reach the basepaths due to walks.
Hood River Valley broke open a scoreless tie with three runs in the third frame and added a single run in the fourth for their outbreak.
TD pitcher Colton Walker tossed a complete game and allowed 10 hits, walked one and struck out eight.
In the nightcap, a 6-5 loss, the Eagle Indians fell behind 3-1 after one frame, but came back with a three-run fifth to grab a 4-3 lead.
The cushion was short lived, as the Eagles rapped out two runs in the bottom of the fifth and one run in the sixth to lead, 6-4.
The Dalles jumped back in contention with one run in the seventh inning and had an opportunity to seal the equalizer, but could not complete the comeback bid.
Steven Bartells went 1 for 3 with a walk, two runs and an RBI. Colin Noonan had two walks and scored a run, and Eaton reached three times on walks.
Clay Copper and Harris had a walk and a run and the team went 4 of 5 on steal attempts. With 10 walks, one hit and three players reaching base on an error, the Tribe stranded nine runners on base.
Clayton Ringer lasted until the sixth inning and allowed six runs, four earned, and seven hits and two strikeouts in taking the loss.
The Dalles (14-7 overall, 3-5 league) remains at No. 8 in the rankings and will look to break a third-place tie with a final game at Quinton Street Ballpark at 4 p.m. today versus No. 20 Hood River Valley (9-12, 3-5).