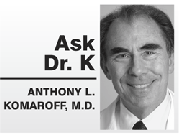 DEAR DOCTOR K: My husband suffers from severe depression, and I'm worried he might take his own life. How do I know if my fears are warranted?
DEAR READER: Most people who commit suicide are depressed. But most people who are depressed do not commit suicide. We can't predict who will commit suicide, but experts observe that certain factors increase a person's risk of suicide.
FAMILY HISTORY. People with a close blood relative who has committed or attempted suicide have a much higher than average risk of suicide. The risk of suicide also is higher if close relatives have had a history of any type of mental illness or violent acts.
ACCESS TO GUNS. Having a gun in the home makes suicide more likely.
SUBSTANCE ABUSE. Alcohol or drug use can erase inhibitions and anxiety that might help keep suicide at bay.
PREVIOUS ATTEMPTS. People who have attempted suicide are more likely to commit suicide than those who haven't tried it before.
A SIGNIFICANT LIFE CHANGE. A change in a person's life can also abruptly increase their risk of suicide (though most people in these circumstances do not kill themselves). For example:
— A significant loss, such as the death of a spouse or loss of a job.
— Loss of social support, for example, because of a move.
— A personal crisis, such as a divorce.
— An illness or medication that triggers a change in mood.
— The suicide of a friend, peer or celebrity.
SETTING AFFAIRS IN ORDER. Finally, there is a warning sign that is paradoxical and dangerously misleading. Has your husband recently sorted out his finances, given away mementos, or called or visited loved ones? Along with these activities, has he seemed calmer and happier lately?
Of course, you want your husband to be happy. But if he seems suddenly happier and is doing things that people do as they approach the end of their life, be really worried. Rather than being a sign of returning health, his happiness may indicate that he is at peace — after having made a final decision.
A friend of mine lost his wife just this way. After many months of suffering, she finally seemed happier. She stopped seeing a psychiatrist, which he also interpreted as a very good sign. Then one day the unimaginable happened, and he was devastated.
Look out for the factors I've discussed. If you believe your husband is suicidal, seek help immediately:
— Talk with a doctor or a mental health professional. Very often, treatment eases or eliminates suicidal urges.
— Call or encourage your husband to call the National Suicide Prevention Lifeline at 800-273-TALK (8255).
— Encourage your husband to discuss his feelings with you and other trusted confidants.
Dr. Komaroff is a physician and professor at Harvard Medical School. To send questions, go to AskDoctorK.com, or write: Ask Doctor K, 10 Shattuck St., Second Floor, Boston, MA 02115.