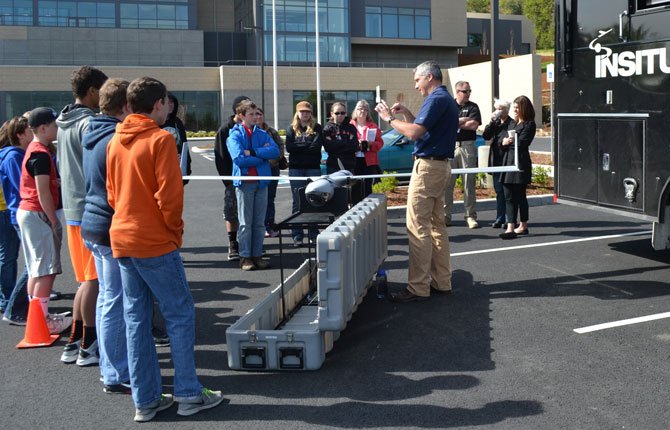 The Gorge Technology Alliance (GTA) held its first STEAM Career Day for students in the region April 25 in The Dalles. STEAM stands for science, technology, engineering, arts and mathematics. All seventh graders in the five-county GTA region (Hood River, Wasco, Sherman, Skamania and Klickitat counties) were invited and around 800 participated with their schools.
"As I told the students at the beginning of the day, the Gorge Tech Alliance hosted this event because our tech businesses love to hire people that grew up in the gorge," said Jessica Metta, Executive Director of the GTA. "Today was meant to inspire the students to reach for some of the jobs available here."
For what they hope to be an annual event, the GTA used the new Fort Dalles National Guard Readiness Center and the Columbia Gorge Community College (CGCC) campus in The Dalles. The day started with presentations from students at CGCC and Oregon State about what it's like to go to college. Students then broke into smaller groups for presentations and hands on activities with 16 different gorge businesses or CGCC programs.
"We couldn't have done it without the willingness of the presenters to give up the majority of their work day. They were excited to be able to give back to the community in this way," Jessica said.
Presenters included Google, Insitu, CGCC Renewable Energy Technology Program, CGCC Health Sciences Program, Pageworks Design, Laughing Deva Productions, Lines of Design, Ray Perkins Photography, Real Carbon, Hire Electric Solar/ IBEW 48, Integrated 3D, Mid-Columbia Fire and Rescue, Hoverlabs, Columbia Gorge Regional Airport, Providence Hood River Memorial Hospital and Custom Interface.
"A few of the school districts — Brent Emmons and Patricia Cooper from Hood River County and Tim McGlothlin from North Wasco County— really helped us plan the event and stressed the need to have some creative careers, which is where the 'A' in STEAM came from."
Other event planners included Ann Harris with OSU Open Campus and Suzanne Burd and Jeff Nicol with CGCC.
"We support school groups coming to the CGCC campus regularly," said Suzanne Burd, "so it was a natural fit. Today was the most we've had at any one time though!" Students watched a small 3D printer in action and multicopters being flown, went inside an ambulance and Insitu's control truck, learned the importance of story development in videography and much more.
"The feedback we received was wonderful," Ann Harris said. "I didn't have opportunities like this when I was growing up. If even just one student decides to pursue a career in these areas as a result of today, I think we'll all consider it a success."
The Gorge Technology Alliance supports, connects and develops the technology community of the Columbia River Gorge with networking and educational events, business support and promotion, workforce development and youth robotics.
Learn more at crgta.org.