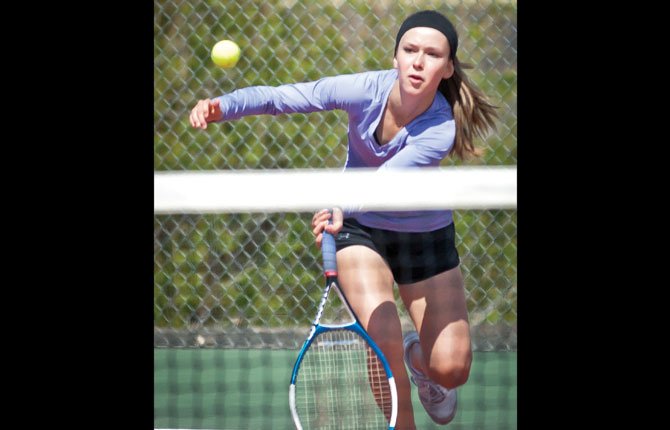 The Sherman Huskies hit the court against Riverside and picked up three singles wins in a 3-3 tie with Riverside Tuesday in a pro-set varsity tennis match in Moro.
Meghan Belshe got the team off on the right track at No. 1 singles with a gritty 8-6 winner over Bianka Barajas, and Karolyn Kaseberg followed the same tune, but absolutely dominated her tussle with Gemma Juarez in an 8-2 decision.
Katherine Shafer had an even easier time on the courts in a No. 3 singles match against Paige Bither, as the Husky standout motored home to an 8-0 whitewash.
Addie Bates lost her No. 4 singles match, and the girls' doubles tandem of Hollee Kaseberg and Elvia Rubio were dispatched by an 8-3 score by the Riverside duo of Ponce and Madrigal.
In the only boy's match of the day, Brett Lane and Garak Casper were on the cusp of giving the squad a 4-2 win in a close battle with Hood and Thompson, but the Pirate pair notched the final two points in grabbing a 9-7 winner.
Sherman head coach Kalie Rolfe was happy to see her team challenged in a major way by some strong competition brought on by Riverside.
"Overall, our team performed well considering the high winds that they were playing against," the coach said. "Karolyn Kaseberg and Katherine Shafer handled their opponents well. Megan Belshe won out on a hard-fought battle. Our boy's doubles team continues to improve."
Sherman has a home match at 4 p.m. Friday before the start of district action next weekend.