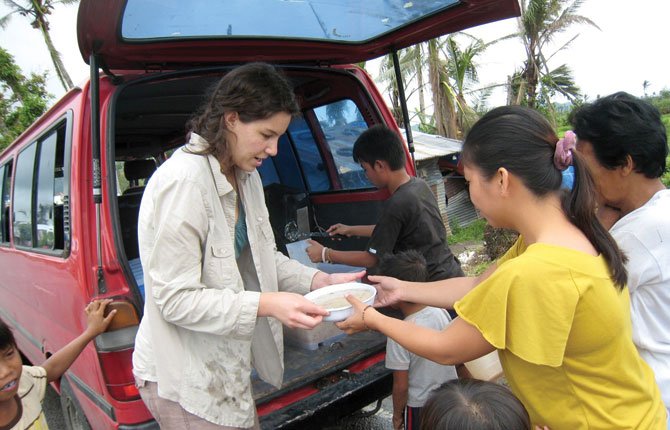 Imagine finding yourself in a place entirely foreign: You don't speak the language, you only just found out where you'll be living and you're expected to start a brand new job almost as soon as you arrive.
Sydney Hege said this was precisely the kind of "up in the air" situation she faced upon landing in Manila to begin her semester of on-the-job training at the Development Bank of the Philippines in January 2014.
"I didn't officially even have a place to live until the day before I left, so I really didn't know what to expect," she said. "All I knew was that this was the kind of thing I had always wanted to try, but never had the opportunity to do before."
An alumni of The Dalles High School and current junior at the University of Idaho, Hege said her economics and international studies coursework laid the foundations for her interest in taking on agricultural business development financing abroad, at least partly inspired by college-level classes she took in high school.
"I really wanted to do this for the opportunity to work in a completely real-world environment," she said. "If I was going to be working hard, I wanted it to be on real life issues, not homework."
And real life is exactly what she ended up finding.
"I live with a woman I work with at the bank, I work full-time, take public transport and, because I've been at the bank for a while now, I just had the opportunity to evaluate a $4 million project for commercialized development farming."
While Hege said she hadn't been overly familiar with Filipino culture at the start of her journey, she had come well prepared in terms of her educational background.
"All of my macro, micro and international development economics courses really prepared me for being here and for applying the things I'd learned in class to real life situations," she said.
Hege said she was the first student at her university to pursue a semester of on-the-job training at the Development Bank of the Philippines based on the University of Idaho dean's connection to the bank's chairman of the board.
Upon arriving in Manila, Hege said she "did a heavy study on the Philippine development plan," which involved learning detailed information about the country's economic situation with an emphasis on sustainable agriculture and fisheries to cater to her position in the bank's agribusiness department.
Hege said her job at the Development Bank requires her to travel around the Philippines and conduct technical project evaluations on-site, where she meets the client and writes up a report assessing the project's overall funding potential.
After spending about two full days visiting the site, Hege said writing the report itself can take up to eight or nine days, taking into account the economic and environmental impacts of the proposed project, any necessary social safeguards and whether or not the project is even financially feasible for the bank.
"It's actually pretty amazing how my work here is so completely in line with what I've been learning back at home," she said. "So many times you sit in class and wonder, 'Gosh, when am I ever going to use this?' Well, as it turns out, I've ended up using pretty much all of it all of the time."
When asked how she was able to meet the challenges of living and working in a completely foreign environment, Hege said, "What it really comes down to is being incredibly flexible and having the patience to figure it all out on your own. There's no handbook for you to reference; there's just not. You're just put in a situation where you're expected to stand up and find your way through it."
Some of the cultural challenges Hege said she has encountered include communication barriers and an incredibly inefficient transportation system.
"Effective communication is mostly about asking the right questions, but sometimes it's hard to know what that is," she said, "In America, we're fairly direct with one another, but it's not the same here where you really have to watch how you act so you don't accidentally end up offending anyone. It's a very respectful, loving culture, but there's also no script to go by.
"Typically, I'm the type of person that talks a lot, but for the first few weeks I was here, I definitely made sure I took a few steps back to observe and soak everything in letting myself take my own actions."
On a typical day in Manila, "You can spend five hours on a bus in the middle of the night just to go two kilometers," she said. "So I just sit there and think, 'I could be upset about this, or I could just get over it and decide to be okay,' so the experience has definitely made me more patient and I swear I'll never complain about transportation again."
While away on client visits, Hege said she also tries to make time for engaging in volunteer work.
"I'm pretty much on my own the rest of the time," she said, "so being able to interact with people outside of work really makes me feel like I'm having a much more tangible experience with the culture."
Over the course of her stay, Hege said she's participated in several outreach programs and helped conduct relief work in a handful of rural communities affected by typhoon Yolanda, or ones which have not necessarily seen as much aid as their more densely populated counterparts.
"Ultimately, my goal is to work in livelihood development in a developing country," she said. "And a lot of the issue sometimes isn't whether or not you have the money to change your business model, but how you can become empowered to build yourself out of poverty."
As a result of her experience studying economics and working in Manila, Hege said, "I feel like I'm a much better decision-maker now; I understand how organizations work and how all the different variables like cause and effect come into play, and it's just helped me understand so much more about the world… Basically, what I've learned is that it's really important to pay attention to everything that's going on around you, because chances are you're going to need something that you started out thinking wasn't very important."