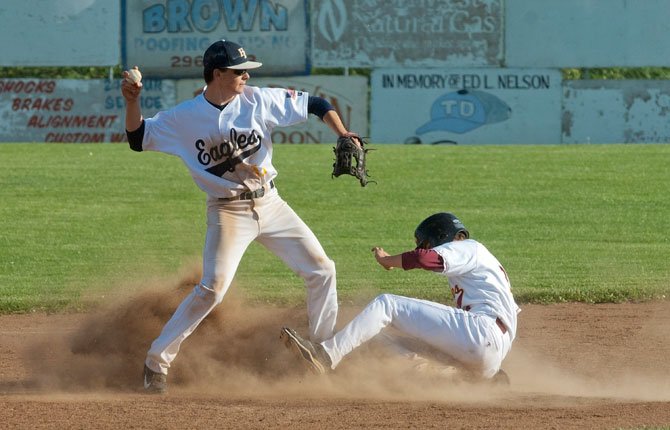 After a tumultuous weekend that saw them manage just one hit in two road losses to cross-town rival Hood River Valley, No. 8 The Dalles got right back on track Tuesday with a 13-hit surge, a prolific pitching performance and a lopsided 11-6 triumph over the Eagles in Columbia River Conference baseball play at Quinton Street Ballpark.
"Saturday wasn't pretty in any way, so it was good to come back with a little bit of fire and emotion to show them that we can play baseball," said senior catcher Clay Copper.
Payton Eaton had a career day with a 4 for 4 effort with two runs scored and four RBIs, one of those hits was a 350-foot, three-run home run in the bottom of the sixth inning as part of a five-run frame to put the game out of reach.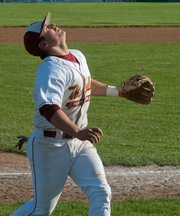 Everything went the Tribe's way Tuesday and sophomore pitcher Colin Noonan provided a standout performance on the mound with the team's top hurlers on the mend from Saturday's action.
Noonan painted the corners and kept Hood River Valley off-balance for 5 1/3 innings. The right-hander allowed two runs, one earned, on three hits and struck out five to net his first win of the season.
Faced with being the stopper, Noonan admitted to some nerves, but he was ready for the opportunity.
"My curveball was working well. I had a few walks there and I got in trouble a little bit, but I was able to battle," Noonan said. "The thing that kept me calm was how well we did offensively and defensively. It was great to win this game."
TD got the ball rolling with two outs in the first inning by scoring three runs off starting pitcher Kam Walker.
Clay Copper, Eaton and Zachary Keimig each had RBI hits, Keimig doing his damage with an RBI double to left to plate Copper to make it 3-0.
Hood River scratched across one run in the third, but in the home half, the Eagle Indians had Eli Holeman at the dish with runners on second and third.
Holeman chased both runners home with a two-run single to left to swell the lead to 5-1.
With the score 6-2 in the sixth frame, Nolan McCall, who led off with an infield single, was at second base and Copper stood at first after being hit by a pitch and Eaton came to the plate against Hood River reliever Conner Curtis.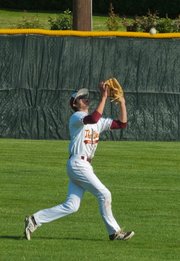 On a 1-2 pitch, Eaton unloaded on a fastball that cleared the left field fence by a large distance for a three-run home run.
Later in the inning, Keimig scored on a bases-loaded walk and McCall added an RBI single to chase home Gordy Harris to make it an 11-2 game.
"We got the big hits when we needed them," said TD skipper J.R. Runyon. "Stevie was the catalyst for us stroking the ball over the yard.
Eli came through, Keimig had a huge hit and Clay hit a ball hard up the middle. Of course, Payton had a game today too. It is fun for us to see him finally squaring some balls up."
Hood River made the score a little more respectable in the top of the seventh inning with five runs, but they ended up leaving one runner on base, as Austin Martin struck out looking for the final out.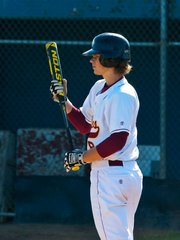 McCall went 2 for 3 with two walks, three runs, two stolen bases and an RBI, and Copper added two hits, three runs and an RBI.
Steven Bartells had a pair of doubles in four at-bats, and Noonan notched a hit, a walk and an RBI to help his cause.
With this type of performance, Copper ushered back memories of an impressive start to the season his team put forth.
He believes they re-capture that winning feel.
"This is what our preseason looked like," he said. "This is what I know the team is capable of. When we do not play like this, it is disappointing. It was fun to see everybody pull through when we needed it most."
Runyon said the biggest thing he wanted to see from his group boiled down to changing their mental approach from Saturday.
"We played a little bit timid that weekend, same is true when we played in Hermiston," the coach said. "The guys can't play with any fear. They always have to play with confidence and a little arrogance if they are going to be successful. As coaches, that is our goal for them for the rest of this season."
The Dalles (15-7 overall, 4-5 league) hosts No. 14 Hermiston (11-12, 6-3) at 4:30 p.m. Friday for another league game.