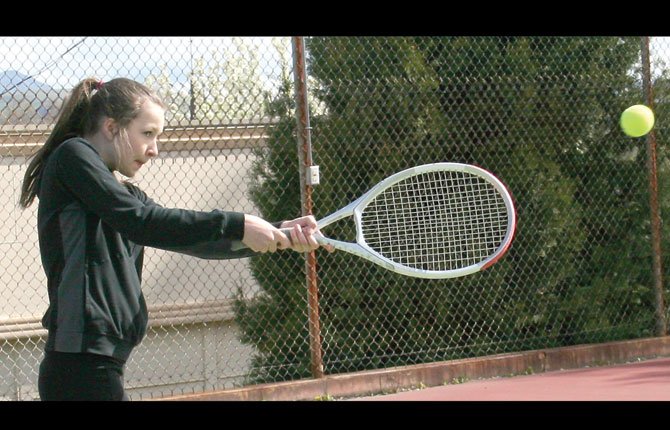 After playing four grueling matches in two days over the weekend in Bend, The Dalles girl's tennis team had one day off before hitting the road to Pendleton for a crucial league match.
MJ Murillo won the Tribe's lone singles match and the teams of Abby Minnick and Emma Ell-Smith along with Cassie Vazquez and Ellie Trujillo picked up victories as well in a 5-3 loss to the Buckaroos Monday.
"It was rewarding to finally see our depth help us out," said TD head coach Debby Jones. "Picking up wins at No. 3 singles and No. 4 doubles is a good sign for the future."
Murillo had to work hard for three sets in her matchup against Hannah Flanigan, as the Pendleton player started off strong with a 6-3 winner to take control.
Murillo slugged it out in the second game and inched ahead late for a 7-6 winner to send the match into a decisive third set.
There, Murillo found an extra gear to pull off a 10-7 triumph.
"MJ came up with a huge win at No. 3 singles," Jones said. "The tight match went well over two hours and MJ came from behind to force and win the third-set tiebreaker."
At No. 2 doubles, Minnick and Ell-Smith followed the blueprint of their singles teammate in a three-set marathon versus Bixler and James.
The Pendleton pair struck first with a 6-4 win, but Minnick and Ell-Smith battled back to even things up at 1-apiece after posting a 6-4 winner.
In the final frame, the Tribe tandem fought tooth-and-nail with Bixler and James, but found the groove late with a 10-7 winner.
"Abby and Emma got the team its first win doing what they have done all season – not get rattled after losing the first," coach Jones said. "They rallied and took the deciding third set tiebreaker."
At No. 4 doubles, Vazquez and Trujillo still had to work hard, but not as hard as their teammates in grabbing a straight-sets winner by scores of 6-4 and 7-5 in a match versus Brown and Walker.
Instead of a 5-3 team loss, the Eagle Indians were close to scoring a tie with Rebekah Kohltfarber and Brittany Watkins moving their match to three sets.
The Tribe duo claimed the opener by a margin of 6-3, but the Pendleton team of Thompson and Sperl charged back in the second set with a 6-4 decision. Down the stretch of the finale, the Buckaroo pair had all of the breaks go their way in reeling off a 10-7 win.
Robin Pashek lost her No. 1 singles match, Kiana Pielli had to withdraw from her match due to injury and Julissa Marquez came up on the short end in her No. 4 singles match.
The No. 1 doubles team of Anna Miller and Johanna Wilson were defeated in straight sets by the Hampton sisters by scores of 6-2 and 6-2.
The Dalles hits the court again at 4 p.m. today versus Pendleton in a re-scheduled match.