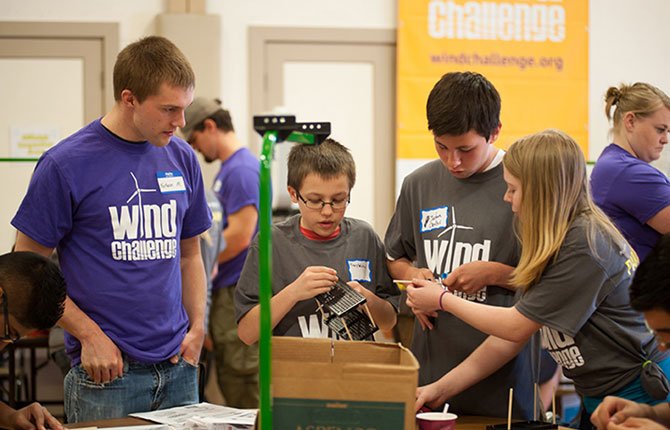 One hundred high school and middle school students from across the Columbia Gorge competed in the 2014 Wind Challenge event May 3, racing against the clock to build the strongest, fastest wind turbines.
Google and the Columbia Gorge Community College sponsored the Wind Challenge Event as part of their work to bring hands-on STEM (Science, Technology, Engineering and Math) opportunities to area students.
Over a 3-hour period at The Dalles Civic Auditorium, 18 teams of students worked with mentors to build wind turbines before they were put to the test in front of a panel of judges. While each team had turbines that produced energy and the competition was stiff, in the end, three winners in the high school and middle school divisions were chosen.
Dave Karlson, operations manager at Google, said, "The thing that really blew me away about this competition was the focus and intensity of all the teams. This is precisely why we at Google partnered with CGCC on the Wind Challenge: because it is a great way to engage students and build on the important science and math skills they learn in the classroom."
The STEM Fair featured tables from Columbia Gorge Community College, the Discovery Center, and local student robotics programs. The Commissioners visited the STEM fair to build their own mini wind turbines with local students.
At the end of the day, Mayor Steve Lawrence of The Dalles and Rep. Mark Johnson (R-Hood River) announced the six winning teams and recognized participating students for their accomplishment with a medal. Mayor Lawrence congratulated the winning teams, saying "The City of the Dalles is proud to be a place where we focus on innovation — and this competition is a great example of that."
Ultimately, the day was about sparking student and community interest in science and technology.
Johnson, who sits on the House Education Committee, said, "It's exciting to see what our kids are capable of doing and to also see great corporate and community college support that makes these kinds of activities possible. We are ground zero for STEM education in Oregon, and it was great to see today's kids developing the 21st century skills our state needs."
High School winners:
First Place: Dufur High Rangers
Prize: residential wind turbine
Second Place: The Dalles High AJs
Prize: Biglow Farms Trip for 33 students
Third Place: Columbia High Team 1
Prize: Snap Circuits 750
Middle School Winners:
First Place: Mill A
Prize: Trip to OMSI for 33 students
Second Place: Dufur Wild Wizards
Prize: SNAP Circuits 55
Third Place: Hood River Wind Freaks
Prize: Science kits from Little Bits for the school