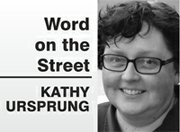 Mama was my greatest teacher, a teacher of compassion, love and fearlessness. If love is sweet as a flower, then my mother is that sweet flower of love.
— Stevie Wonder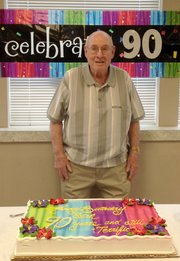 Two special days: The Sawyer family of Sawyer's True Value celebrated the 90th birthday of the company's second-generation owner, Stan Sawyer, on May 3.
This coming weekend, however, is all about the moms as Sawyer's brings back its annual Mother's Day Plant Event.
Kids are invited to choose a flower and plant it in a pot for mom at the event, which happens Saturday, May 10, from 10 a.m. to 3 p.m. Free face painting, popcorn and bounce houses from Sawyer's Just Ask Rental will add to the festivities.
"Everybody is always searching for the perfect Mother's Day gift," said Jared Sawyer of the fourth Sawyer's generation. "And what could be more thoughtful than a live plant chosen by a child?"
CPA honoree: Amanda Taskey of Friend & Reagan, P.C., is a recipient of the Becker Scholarship from the Oregon Society of Certified Publci Accountants. She received her associate's degree in accounting from Portland Community College in June 2011 and decided to pursue her bachelor's in accounting through Linfield College.
She graduated from Linfield in December 2013 with highest honors. Taskey joined Friend & Reagan, P.C. in The Dalles in December 2010 as a bookkeeper and payroll clerk. This tax season was her first of many and she is also a member of the audit team.
Taskey says she thoroughly loves her job and the firm she works for. In her free time she enjoys running, yoga, and playing with her two boxers.
Internet of the Future: Wondering when your internet will be faster, more consistent, or just more of what you want? The Gorge Technology Alliance will host a panel of regional internet service providers Wednesday, May 28, to hear plans for internet capacity in the gorge. Networking starts at 6:30 p.m. and the presentation around 7 at Springhouse Cellar Winery (13 Railroad Ave., Hood River).
Appetizers included; $10 entry for non-GTA Members.
Representatives for the expert panel have been invited from CenturyLink, Charter, Gorge.net, Hood River Communications Access Coop, Mosier WiNet and Saw.net to share current and future plans for equipment and offerings.
Short presentations, questions from moderator Kent Heighton and questions are intended to make the evening very informative.
Rumor buster: According to the owners of Essence of Peace Fragrances and More, a rumor has been spreading around town that they offer illegal drugs in addition to the fragrance products and jewelry that are their products.
That is emphatically not the case, they say. In fact, as a deterrent to such inquiries, they have painted "a drug-free zone" on their display window. "That is so not what we're about," said Michael Powell.
The store is located in the St. Vincent de Paul Thrift Shop building on West Ninth and Trevitt streets, in the former Nook storefront. It offers incense, body lotions, jewelry and similar products.
Hospitality U: Three dates have been set for Hospitality University training through The Dalles Area Chamber of Commerce. The purpose of the class is to create a well-informed, responsive and enthusiastic workforce that is knowledgeable about what to do, where to go, and how to have fun while visiting The Dalles.
Each participant will receive a certificate and badge upon completion. Training dates are:
May 20, Petite Provence, 3:30 p.m.
May 21, Cousins' Country Inn, 11 a.m.
May 28, Griffith Motors, 6 p.m.
Call the Chamber for details or to sign up at 541-296-2231, or register online at http://bit.ly/1o68oeZ.