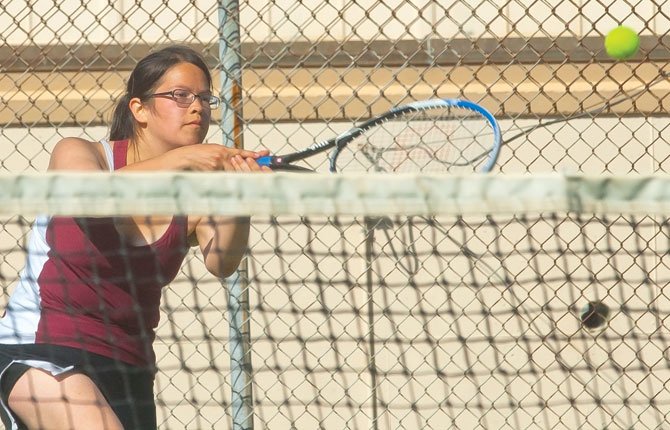 With their final opportunity to hit the court during the regular season, The Dalles girl's tennis team could only manage one match win in a 7-1 home setback to Pendleton Wednesday in Special District I action in The Dalles.
It was a big departure from an earlier meeting on May 5 when the Eagle Indians racked up three wins on the road to the Lady Buckaroos.
Taking the only Tribe victory was the No. 4 doubles tandem of Cassie Vazquez and Ellie Trujillo.
They hit the court opposite Aieleia Sayres and Hailey Cosgrave and were dominant in their performance.
Vazquez and Trujillo breezed through the opening frame with a 6-2 output and maintained that edge for a 6-4 margin to complete the sweep.
"They kept their winning ways and continued to show improved play," said TD head coach Debby Jones. "I am so pleased with how they've picked up important communication skills and are utilizing them in their play."
Also in doubles action, the No. 1 duo of Anna Miller and Johanna Wilson battled toe-to-toe against a newly formed Buck squad of Jessica Clark and Sam Bixler.
The Pendleton team had no issues in the opening set, reeling off a 6-3 tally to take a 1-0 lead. Miller and Wilson were able to settle in smoothly for play in the second set and wrapped up a 6-2 winner to send this showdown to a decisive third-set match breaker.
In the finale, Clark and Bixler were able to fend off a late rally by the TD team to post a 10-6 victory.
"Johanna and Anna played one of their best matches of the season and really showed the potential of a solid doubles team," Jones said. "A lot will depend on the draw at district, but those two will be a team that no one will want to face in the first round."
On the singles side, the Buckaroos rattled off a complete whitewash with straight-set wins telling the story.
Robin Pashek lost her No. 1 singles, Kev Hampton upended MJ Murillo and at No. 4, Brandy Brown denied Julissa Marquez, 6-2, 6-1.
Leslie Luna-Lopez had to bow out of her No. 3 match with Hannah Flanagan due to injury.
Abby Minnick and Emma Ell-Smith went to work in their No. 2 doubles tussle against Keziah Hampton and Mona Bredal-Thorsen, but could not sustain any momentum in taking a 6-2, 6-1 setback.
Rebekah Kohltfarber and Brittany Watkins suffered the same fate in their No. 3 doubles set versus Christina Thompson and Kiana Sperl, losing by markers of 6-2 and 6-2.
With a little over a week before the start of district play, Jones is looking to iron out a few details in the next preparation sessions.
"It will be great to get some good practice in before district and get everyone healthy," Jones said.
District action kicks off at 9 a.m. next Friday in Sun River.
Championship and consolation play is Saturday.