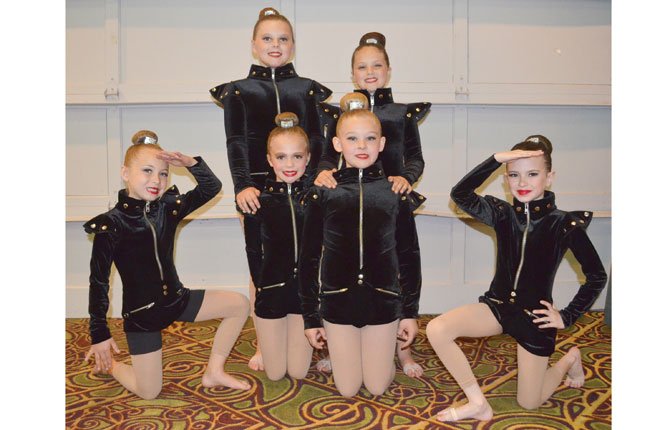 There was no stopping the expert dancing and technique of The Dalles Dance Club Academy.
The squad racked up three first places, eight seconds and two thirds after two days at the I Love Dance event ending May 4 at the Holiday Inn and Trade Center in Portland.
At the I Love Dance, a regional event in ballet, jazz, tap, lyrical, modern, variety arts and song and dance, this program produces dance festivals, competitions and conventions throughout the United States, Canada and Australia.
The judges award cash prizes, trophies, scholarships, and titles at each competition.
Dancers of all ages and ability levels can gain experience through participation in professionally-produced events.
In the beginner's division, the group of Elizabeth Olivan, Hayley Peterson, Tora Timinsky, Kelsie Boothe, Katelyn Vassar, Bella Perez and Laurel Kirby secured first place in the jazz classification and racked up second in beginner's tap division.
Nathan Nanez, Mackenzie Smith, Giselle Schwartz, Riley Brewer, Anna Singhurst, Evan Despain, Ella Morgan, Jordyn Hattenhauer, Gillian Wolf, Electra Wickersheim, Willow Drake, Sophia Pullen, Sydney Rains, and Aidan Telles added to the trophy case with top honors in the senior division jazz event and added a second-place output in tap.
The veteran dancers also shared in the accomplishments of the program with first place in the senior jazz division and second in the senior tap level.
Those members are Kristen Pitt, Alejandra Pena, Taylor Sugg, Delaney Schanno, Lauryn Despain, Destin Ramsey, Lilia Chance, Sydney Langer, Alissa Pastor, Alexis Pastor, Riley Nelson, Madison Rowland, Alyssa Valles, Keagan Rice and standout performer, Alli Morris.
Lorelay Berry, Hannah Kortge, Paige Bankhead, Jayden Szeremi, Elizabeth Olivan, Meli Avila, and City Mains reeled off second place in the elementary tap class and also notched a second place trophy in jazz.
Taking third place in jazz and second in tap were Autumn Ringer, Brianna Gamez, Hannah Wallis, Abbey Helseth, Tianna Smith, Jessika Nanez, Kendyl Kumm, Crysta Harris and Allyson Lutgens.

On the individual side, a TD trio came through with top performances.
As part of the senior division, Pena scored second place in jazz solo, Kortge wrapped her elementary jazz solo effort in second and Berry chalked up third place in her solo elementary jazz routine.
The Dance Club will hold its annual recital at 7 p.m. Saturday, May 17, at The Dalles High School Auditorium.
Admission is $4 and all proceeds will go towards TDHS dance team.
Instructor Kristi Maley announced a six-week summer dance session starting June 23.
To sign up, parties must register at The Dalles Fitness and Court Club.
Call 541-298-8508 or email kristi.maley@gmail.com for questions.